Forest & Timber Land Management Services In Alton, NH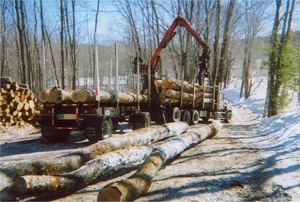 Stillwater Forestry, LLC is always happy to take care of new Alton clients who don't want to manage their timbered acreage themselves. If you need help, there's only one forestry management expert to come to.
We offer more than 20 years of industry experience and a 100% satisfaction guarantee on our forest management service plans.
Let us offer a service package that meets your needs and the specific needs of your property. If you would like more information about our Alton forest management service, just give us a call.
Timber value appraisal & harvesting management
Forest management & security inspection
Wildlife habitat assessment & improvement
Land purchases and consulting
Boundary line maintenance service
Management Service For Your Recreational Forest Land
Love to hunt or camp on your forested acreage? Let us keep it secure and see to the needs of the wildlife habitat while you're away.
We can keep your boundary lines intact, help you increase the chance of your preferred wildlife, and make sure your Alton land stays secure.
Annual forest security inspections
Improve wildlife habitats
Boundary line maintenance
Forestry health improvements
Need An Expert To Manage Your Timber Harvesting?
Let us meet with you to discuss the management of your Alton timber harvesting objectives. We help you plan the harvest process to ensure all your goals are met. Your service will include:
Detailed reporting of the tree species
Market Value & marketing
Harvest contracting
Permitting
Expert advice
and more
If you are looking for Forest Management Services in Alton, NH, please call 1-800-237-9253 or complete our online request form.