Your Boscawen Forestry Management Professionals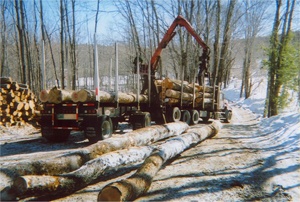 For any land owner, forestry maintenance is essential to maintain curb appeal and property value. For the best maintenance services in the Boscawen area, look to the forestry maintenance professionals at Stillwater Forestry.
We can maintain your land's beauty, health, and value thanks to the many great services we offer. Whether you're in the market for timber harvesting, forest maintenance plans, or any other such service, you can count on us to provide the work you need to keep your Boscawen land in the best shape.
Efficient Timber Harvesting Services
If you run a woodlot in the Boscawen area, you need to make sure you'll be able to produce healthy, valuable timber every season. Of course, you may find yourself strapped for the kind of time you need to put in for a high-quality timber harvesting every year.
To get a quality harvesting, give our expert team a call today. Whether you're looking for a single tree selection, shelterwood, or patch cuts, you can depend on us to provide the tree harvesting work you need.
Call for Our Boundary Line Maintenance
The lines that delineate your forestry line can begin to blur over time as nature wears away at the markings you put down. This fading can create some problems since people may accidentally trespass on your property. What's worse, you could be exposed to a greater likelihood of lumber theft.
To help prevent these problems, you need to make sure your property lines are visible. If they currently are not, be sure to give our Boscawen team a call. With our boundary line maintenance service, we'll help to clearly delineate your forestry to keep it as protected as can be.
If you are looking for a Boscawen forestry management professional then please call 1-800-237-9253 or complete our online request form.