Forestry Service in Bridgewater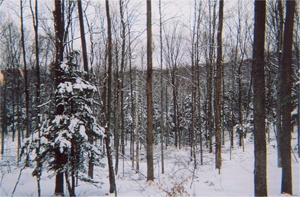 Bridgewater is a small community located in the Lakes Region of Grafton County in New Hampshire. Landowners value the forests, pastoral open spaces, and water bodies as locations for outdoor recreation, and for the scenic beauty they provide. If you are a landowner looking to create a market value for your woodlands then it's important to hire a company with the knowledge and experience that can help you make the most of your property. Stillwater Forestry offers consultation, maintenance and other valuable services for property owners in Bridgewater. Check out our website to discover all the ways we our Bridgewater forest services can help you and then call us for a free half hour consultation.
How Much is Your Timber Worth?
The market value of your timber is generally determined by several factors including the number of trees are on a parcel of land. It is also determined by the current market prices for current harvests. We can help you access reports that provide important information regarding your timber such as the quality, quantity, type, and size of the timber. This helps us to calculate what the fair market value of your timber is. This is why it's important to have a professional appraisal performed by experts who know both the timber and the industry.
Yearly Security Inspections
We offer annual and bi-annual Bridgewater security inspection on your property on a number of key items that are often overlooked. We inspect the entire perimeter of your property for major concerns such as timber theft, trespassing and vandalism, erosion, insect invasions, wildlife, fire lanes, and, of course, tracking the growth of your Bridgewater timber. All of these are preventative services that catch issues before they become major problems.
Wildlife Habitat Improvement
If you are like most landowners, you want to make the most of your woodlands without harming the current wildlife. We can help you with our Bridgewater wildlife habitat improvement program. We can walk you through the process of finding the right wildlife that can thrive in your forestland. Tell us what wildlife you would like to live on your property and we can guide you in order to see if your personal choices are a right fit for your land. We provide services that are specific to your personal needs such as evenly spaced patch cuts, creating adequate food, planning conifer cover for shelter, planting wild apple trees and performing old field reclamation.
Comprehensive Forestry Service
Stillwater Forestry is one company that does it all. We can meet with you and inspect your land in order to determine just what your needs are. Our Bridgewater forestry service range from timber harvesting, boundary maintenance, forest management and timber value appraisals to security inspections, wildlife habitat services, land acquisition and timber improvements. When it comes to your land, you want an experience, Vermont and New Hampshire certified forestry service to take care of your property.
Providing These Bridgewater Forestry Services
Bridgewater, NH
Recent Articles
How Forestry Demands are on the Rise Through Timber Harvesting in Bridgewater
The United States Forest Service recognizes that it must drastically increase forest restoration work in order to alleviate threats that stem from wildfires and other problems that can take over a forest. Timber harvesting is one of the best ways to manage a forest while making the landowner successful in their investment...
---
Protecting Land with Wildlife Habitat Improvements in Lebanon
Wildlife in our protected forests these days are becoming scarcer due to the amount of foresting and cultivating of land. We are removing habitats while not realizing the importance of them. Today-more protective methods are taking place through wildlife habitat improvements...
If you are looking for a Bridgewater forestry management professional then please call 1-800-237-9253 or complete our online request form.