Premier Forestry Service in Canaan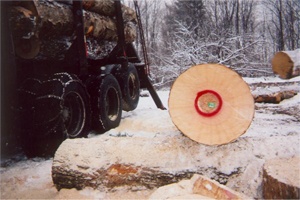 Canaan, New Hampshire is a small town located in Grafton County, New Hampshire with a population of just over 3900. It lies in the valley of the Indian River at the base of Mount Cardigan. It is lush with beautiful greenery and gorgeous woodlands. With neighboring landowners who manage huge properties it's important to hire a company that can help take care of the woodlands and property and insure that boundary lines are clear, woodland creates are cared for, and that landowners get fair and healthy market prices for their timber. Stillwater Forestry is the company that landowners in the Grafton County area trust for all the woodland services. We provide a full range of Canaan forest services that are sure to take care of all your needs.
Timber Harvesting Services in Canaan
Timber Harvesting in Canaan not only gives you a substantial income year after year, but insures the long term health of your woodlands, as clearing away the older, more mature growth makes ways for newer trees and greenery. We distinguish the weed trees from the crop trees and eliminate the trees that are not profitable. Our goal is to help you maximize your profits as a landowner. We offer comprehensive service including single tree selection, shelterwood, and even patch cuts. We provide a free 30 minute consultation in which we evaluate the timber and then give you options that are available to you.
Establish Your Boundary Lines
"Good fences make good neighbors" - Robert Frost
As a landowner, it is essential that the boundaries of your property are clearly marked so that there's no confusion between owners or potential trespassers or poachers. Establishing boundary lines keeps you from spending money on costly surveys which are time consuming. Clearly marked lines will minimize or eliminate intentional or accidental timber theft. Having your boundaries evident also increases your land value as there is no guess work in trying to figure out how much land you own. Finally, it reduces or diminishes trespassing when you have signs up that are not blocked by brush.
Timber Market Value Appraisals
A timber appraisal from Stillwater Forestry helps you figure the overall population and market value of the Canaan timber found on a sampling of the property. Our service includes items such as forest management planning based on current assets, taxes, estate settlement, and land sale & acquisition. We can give you professional on advice on what measures you need to take in order to increase your land value, and set up benchmarks by which to accurately measure the progress of your land. Our goal is to help you maximize the value of your land which will increase your profits.
Complete Forest Management
Let's face it. When you own several acres of land, it is almost impossible to manage it, preserve the wildlife, and also harvest it. This is why Stillwater Forestry is a valuable company in Canaan. Our management planning service helps you analyze steams, ponds, dirt and soil, wetlands, and the overall condition of your land. These are important for determining exactly what can be utilized and how. This drastically improves the long-term value of your forestland. As a bonus, proper forest utilization helps you save money on your taxes as a part of both the Vermont Use Value program and New Hampshire Current Use tax abatement program.
Providing These Canaan Forestry Services
Recent Projects in Canaan
Canaan, NH
Recent Articles
How Forestry Demands are on the Rise Through Timber Harvesting in Canaan
The United States Forest Service recognizes that it must drastically increase forest restoration work in order to alleviate threats that stem from wildfires and other problems that can take over a forest. Timber harvesting is one of the best ways to manage a forest while making the landowner successful in their investment...
---
Protecting Land with Wildlife Habitat Improvements in Lebanon
Wildlife in our protected forests these days are becoming scarcer due to the amount of foresting and cultivating of land. We are removing habitats while not realizing the importance of them. Today-more protective methods are taking place through wildlife habitat improvements...
If you are looking for a Canaan forestry management professional then please call 1-800-237-9253 or complete our online request form.