Quality Forestry Management Services in Gilsum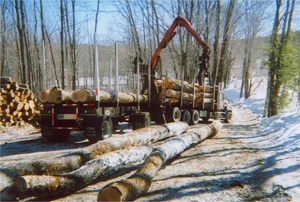 Your land should be kept healthy and beautiful, though the job may seem daunting to you with regard to the sheer size of your land. Fortunately, you don't have to let that magnitude scare you – not when you can have leave its upkeep to the forestry management pros at Stillwater Forestry.
Whether you're in the market for a timber harvesting, boundary line maintenance, or any other kind of service, you can depend on us to provide the quality of work you're looking for. Don't hesitate to call our Gilsum forestry pros today to schedule time for any of these services.
Timber Harvesting in Gilsum
When your trees are ready to be harvested, you might consider that task with some manner of trepidation. After all, you may not have the equipment and manpower to be able to get the work done in a manner that's both efficient and safe.
To have your timber harvesting handled quickly and with no risk to you, you need to give our Gilsum team a call. We'll harvest your lumber in an efficient manner so that you can quickly get to profiting from all the work you've put into it.
Call for Our Boundary Line Maintenance Work
While it's important that you keep your Gilsum land safe and bountiful, it's just as important that you take steps to clearly define its parameters. After all, poorly marked parameters may leave you open to trespassers – both intentional and unintentional.
What's worse, poorly defined boundary lines could leave you open to having your lumber stolen. To avoid these problems, call us for our boundary line maintenance work. We'll make sure your property's parameters are always clear to help you avoid the problems that come with unclear boundaries.
If you are looking for a Gilsum forestry management professional then please call 1-800-237-9253 or complete our online request form.