Your Forestry Maintenance Professionals in Groton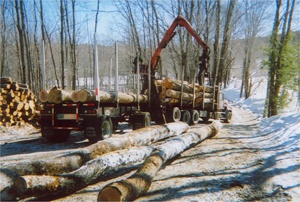 If you own land that contains forestry, you need to take steps to keep it in tip-top condition. An easy way to do that is to leave its upkeep in the hands of the experienced Groton forestry management professionals at Stillwater Forestry.
Whether you're in the market for a timber harvesting, boundary line maintenance, or other related services, you can depend on us to provide quality work. Our forestry maintenance services will keep your Groton property in the best and healthiest condition possible, guaranteed.
Call for Our Quality Timber Harvesting Work
If you own a timber yard, then at some point every year, you'll have to deal with the work of preparing your timber for harvesting. Of course, this process requires much time, resources, and know-how – things which you may not be able to offer.
For the safest and best quality job, you need to leave your timber harvesting to our experienced Groton team. We'll work quickly to get your timber prepared and moved out so that you can reap the rewards of another year of hard work.
Boundary Line Maintenance in Groton
It's important that you clearly mark out the property lines on your Groton acreage. Doing so will help to prevent accidental or intentional trespassing, while also helping to prevent lumber theft. Unfortunately, the weather can wear away your boundary markers over time.
When time and the elements have rendered your boundary lines too faded to be of much use to you, give us a call. We provide quality line maintenance service that will help to keep out unwanted guests while also working to prevent lumber theft.
If you are looking for a Groton forestry management professional then please call 1-800-237-9253 or complete our online request form.