Premier Forestry Service in Canaan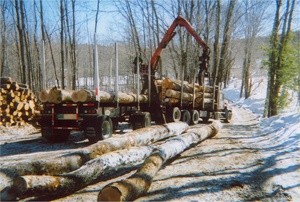 If you are a landowner in Hillsborough or any of the surrounding communities in New Hampshire or Vermont and you are interested in using your woodland for the harvesting of timber, there are several factors you need to consider. There is a lot that goes in to successfully managing and maintaining your woodland property, which is why it is extremely important to hire a professional Hillsborough forestry management service that has experience in both harvesting timber and growing trees so that you can protect your land and get the most profit out of them when it comes time to sell you timber.
Stillwater Forestry has developed a reputation among property owners in the Hillsborough area as the area's most trustworthy and hardworking forestry management service. Our team of experienced forestry management experts and contractors know exactly what it takes to maintain woodland property, and we provide a full range of services to make sure that you are getting most out of your land in terms of both enjoyment and return on your investment. Our team of forestry management professionals can help you with every aspect of managing your woodlands and harvesting your timber ranging from timber appraisals, habitat improvement, land acquisition, security inspections, and even consulting. Our team of professionals are all fully certified and are extremely knowledgeable in all forestry matters.
If you have any questions about our full line of forest management services, or you would like to schedule an appointment for consultation, give our team of experts a call today. Our forestry professionals are always standing by and willing to help in whatever way they can. We look forward to working with you.
Hillsborough Timber Harvesting Services
Preparing and harvesting your land's timber to sell involves more than just cutting down some trees and driving them off. It is also about securing your land and protecting your investment in your land for the future. Cutting timber involves careful preparation and requires a strategy going in so you can clear out the trees that need to be cleared, and leave the ones that still need some time. Our team of forestry management professionals can help you find which ones are which, and guide you through the process of harvesting and getting your product to market. We also employ methods that are proven to keep your forest healthy and producing for a long time to come.
Hillsborough Forestry & Wildlife Maintenance Services
Your forested property is its own small ecosystem, fill with a wide variety of different plants and animals that are dependent on each other for their survival. Our team of professionals can help you maintain this ecosystem so the wildlife on your land continues to thrive, and we can even tailor your property to help attract and shelter particular species that you might be looking for. We even cover key elements including streams, ponds, and wetlands, soil and erosion, and providing potential food sources and shelter for animals that you want to live on your property. All of our wildlife maintenance services are designed to create a rich and fertile environment for all living plants and animals. Our team of forestry management professionals have successfully sustained thriving forests for countless landowners throughout the New Hampshire and Vermont areas.
If you are looking for a professional forestry management service in Hillsborough or any of the surrounding communities in New Hampshire & Vermont, give us a call today at 1-800-237-9253 or fill out our online request form.