Unbeatable Forestry Management Work in Lempster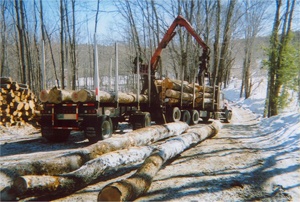 Do you own many acres or property? If you do, you need to keep the Lempster forestry management experts at Stillwater Forestry in mind. We offer some great services to help keep your land beautiful, healthy, and (should you sell lumber) profitable.
One such service we offer is timber harvesting, which will help you reap the fruits of another year's work. Another service is boundary line maintenance. Whatever forestry maintenance services you may be in the market for, you can depend on our Lempster team to provide it, guaranteed.
Enjoy Our Timber Harvesting Work
If you keep land for the purpose of selling lumber, you may find yourself looking to the inevitable routine harvest time with some manner of frustration. After all, you might be pressed for the machinery and manpower needed to get the job done safely and efficiently.
To get that task handled in a timely manner without posing any danger to yourself, you need to leave its work to our dependable team. We offer quality professional timber harvesting services that will help you profit from your lumber without having to handle the work yourself.
Thorough Boundary Line Maintenance in Lempster
When your property gets to a certain size, you may not be able to delineate its boundaries with a fence, as doing so may be prohibitively expensive. So, you need to find other ways to mark your property lines, though you may be at a loss as to how to do so.
If that's the case for you, just give our Lempster experts a call. With our boundary line maintenance, we can help to clarify where your property begins and ends, and we can ensure that those parameters will always be clear with routine maintenance.
If you are looking for a Lempster forestry management professional then please call 1-800-237-9253 or complete our online request form.