Premier Forestry Service in Salisbury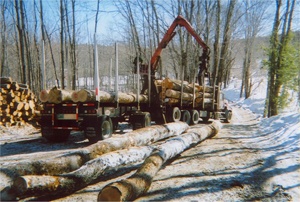 If you own some woodland property in Salisbury or the surrounding areas and are looking to utilize it, there are a number of great options available to you. From wildlife protection, timber harvesting, or just sprucing up your property and creating a beautiful woodland landscape, our team of Salisbury forestry management professionals here at Stillwater Forestry can help you accomplish your goals. Since our founding in 2007, Stillwater Forestry has developed a reputation as the New Hampshire and Vermont forestry management service of choice for property owners who are looking to make the most out of their woodland property. We have a passion for protecting our area's beautiful woodlands and that passion extends to making sure that you are getting the most out of your woodland property, both in terms of profit, and just enjoyment. We provide a wide range of forestry services ranging from timber harvesting, to boundary line maintenance and security, and even wildlife habitat improvements.
If you have any questions about the many different ways we can help you make the most of your Salisbury woodland property, or you would like to schedule an appointment for consultation, give our team of forestry management professionals a call today. We are always standing by and willing to help however we are able to make sure that you are getting the most from your woodland property.
Timber Harvesting Services In Salisbury
Timber harvesting can be a profitable endeavor, but it is also one that is good for the environment when done right. Timber harvesting is the best form of pruning that natural forest can get, and we put our years of harvesting experience to work in order to help you prune your forest in such a way that it continues to flourish and stay profitable, while also helping you find the best timber on your land and sell it at the best price available on the market. We employ a number of different techniques to help you maximize your profits from your harvest and to keep your forest healthy, including single tree selection, shelterwood, and patch cut methods. We make sure to remove the weed trees and harvest the crop trees while preserving the overall beauty and health your woodland habitat. Our full range of forest management services will help you grow, harvest, and market your trees so that you get the most out of them. When it comes to harvesting your timber, you want to make sure that you have the services of an experienced professional in your corner helping you navigate the business and get the most bang for your buck. When you are looking for forestry management experts, you won't find better than the pros at Stillwater Forestry.
Timber Value Appraisals In Salisbury
The goal of a timber value appraisal is to ascertain the actual volume and value of the timber on your land. To calculate this, our team of forestry management professionals will compare what you have to the current market price for usable timber, and help you find the value of your timber based on a thorough and accurate assessment that we will provide. We will help you find an accurate market price for your timber, so when it comes time to sell, you won't be left guessing on whether or not someone is trying to pull one over on you.
If you are looking for a professional forestry management service in Salisbury or the surrounding communities in New Hampshire or Vermont, give us a call today at 1-800-237-9253 or fill out our online request form.