Premier Forestry Service in Canaan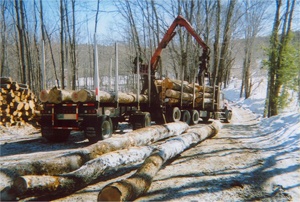 Since our founding in 2007, our team of Shelburne forestry management professionals at Stillwater Forestry have become some of the most sought after and most trusted forestry management experts in the entire New Hampshire area. Our first and foremost goal is to help you protect one of your most important investments: your woods. We will professionally manage all of your property's woodlands while making sure that your objectives are fully met. We want to make sure that your land ownership is both enjoyable to you and also lucrative. As forest and wildlife preservation is a serious passion of ours, every single one of our professional forestry services are performed with the greatest degree of care and precision, making sure we pay close attention to every little detail of your property so that you can continue to enjoy it.
Stillwater Forestry was founded in 2007 with the singular goal of forming a forestry management company for landowners in New Hampshire and Vermont, and this experience has enabled us to become one of the most trusted professionals in the industry. If you have any questions about our full line of professional forest management services, or if you would like to schedule a consultation on your property, give our team of Shelburne professionals a call today. Our team of forestry management experts are always standing by and ready to answer any questions you may have. We look forward to helping your enhance your land-owning experience.
Boundary Security & Maintenance In Shelburne
If you own several acres of land in the Shelburne area, you know how difficult it can be sometimes to keep track of everything and manage it on a routine basis. With all of the many different essential responsibilities you have to juggle in order to keep your property looking beautiful and healthy, it can be hard to get it all done on your own. Here at Stillwater Forestry, we provide a complete line of forest management services, including:
Border Management & Security
Defining Clear Property Boundaries
Protecting Your Property From Theft, Vandalism, & Trespassing
Cleaning & Brush/Foliage Clearing Along Your Boundary Lines
Timer Appraisal & Management In Shelburne
When it comes to harvesting and marketing your land's timber, it is always helpful to have a professional contractor that you can trust on hand to help you optimize your product. From appraisal to harvesting and selling your timber, our team of forestry management professionals can help you through every step of the journey and make the process easier on you. We have years of experience and know the appropriate methods to preserve your woodlands, and make sure the right trees are harvested at the right time. We can even help you negotiate for the best prices when you go to sell.
Recent Projects In Shelburne
If you are looking for a Shelburne forestry management professional, give us a call today at 1-800-237-9253 or fill out our online request form.