Your Goshen Forestry Service Professionals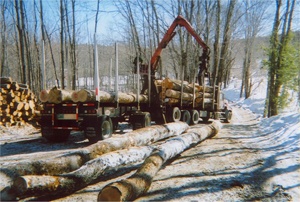 At Stillwater Forestry LLC, we are proud to offer locals the best in Goshen forestry management service work. It is vital to be able to take good care of the dense forests that make up so much of our state. While public forests are maintained by government agencies, you need someone to help with the upkeep of your privately owned land. We partner with landowners to find out more about the individual services they need. We can customize the services we provide based on these needs. Whatever the plan of action may be, you can be certain that you will be 100% satisfied with the final results.
From safety to the healthy of the vegetation, there are countless benefits to having an expert to work with for this type of service work. We take great pride in the work that we do and in having the opportunity to help preserve, conserve and improve the forests in this area. Let us provide you with the level of quality excellence in forestry management that you deserve.
Goshen Timber Harvesting
Timber harvesting is a lucrative channel to take if you own land that does well for growing sought-after trees. However, the trick is the fact that this is a delicate balance. You need to be able to grow enough to harvest yet not harvest so much that it over-depletes your land. Carried out properly, this well-planned system can help make you money while actually maintaining or improving the land and future trees that grow. It is not something that Some benefits of this include:
Harvesting your timber can provide quality logs for sawmills
Makes it possible for forestry management professionals to take better care of the forest
This timber may also be utilized to create habitats for wildlife
It is an ideal way to rid the forest of trees which are already burned, diseased or that may be infested with insects
Weak trees pose a threat to collapsing and harming nearby healthy vegetation
Goshen Boundary Line Maintenance
While typical residential property may have easier ways of marking a property line, getting into the thick forest provides somewhat of a challenge. However, the work is still just as important. You are expected to maintain your property line for heavily wooded property just as you would your own backyard. Since you are still responsible for making sure nothing of your land is encroaching neighboring land, you need the experts at Stillwater Forestry LLC to provide you with quality boundary line maintenance. For this, as well as other forest management-related service work, let our crew handle it for you.
Recent Articles
How Forestry Demands are on the Rise Through Timber Harvesting in St. Johnsbury
The United States Forest Service recognizes that it must drastically increase forest restoration work in order to alleviate threats that stem from wildfires and other problems that can take over a forest. Timber harvesting is one of the best ways to manage a forest while making the landowner successful in their investment...
---
Protecting Land with Wildlife Habitat Improvements in Lebanon
Wildlife in our protected forests these days are becoming scarcer due to the amount of foresting and cultivating of land. We are removing habitats while not realizing the importance of them. Today-more protective methods are taking place through wildlife habitat improvements...
If you are looking for a Goshen forestry management professional then please call 1-800-237-9253 or complete our online request form.