Your Holderness Forestry Service Professionals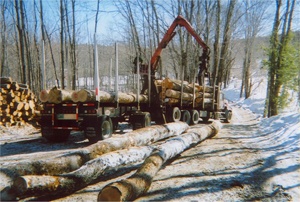 Just as you would need a landscaper for your residential lawn, you need a Holderness forestry management service provider for your tree-lined woodland. Of course not just any service provider will do, you need the best of the best. For this reason, locals call on Stillwater Forestry LLC to get the job done. People who own dense woodland use it for a variety of reasons. Whether you intend to hunt on it or live on it, or anything in between, we will help you keep it maintained. Even if you want to earn extra income from timber harvesting, we can assist with that as well. Even if your plot of land is not that large, it will still require the expertise of an forestry management professional to help with upkeep. The variety of services that we offer is essential for a number of reasons including keeping the land healthy and safe. Let us help make that possible for you.
Holderness Forestry Inspection
Your land is dense with trees and it would be impossible to walk every square inch of it. Yet without that type of visual inspection, how can you really know what is going on with your land? This is where our team of industry experts comes in to the picture. We are able to provide you with a thorough and comprehensive inspection, in order to monitor for possible problems such as:
Diseased Trees – Without being detected early, it could quickly spread to other trees.
Insect Infestations – Nature is a delicate balance; bugs can do wonders and they can also completely devastate.
Presence of Unwanted Wildlife – You may want to keep your land free of dangerous wildlife yet without monitoring for this, how can you know what the population is like?
Vandals or Vagrants – No one should be present on your property that you did not invite so make sure your land has not become the meeting spot for unwanted guests.
Wildlife Habitat Improvement in Holderness
Stillwater Forestry LLC wants to help you encourage a healthy population of desirable wildlife on your land. We know what it takes to make sure that there is a sufficient supply of food and shelter in order to have this on your property. Taking care of your forest-filled land is simply not the type of task that you can handle on your own. Get in touch with us now so that we can provide you with the services you need to maintain healthy woodlands. From timber harvesting to vital inspections, we offer the workmanship that you require.
Recent Articles
How Forestry Demands are on the Rise Through Timber Harvesting in St. Johnsbury
The United States Forest Service recognizes that it must drastically increase forest restoration work in order to alleviate threats that stem from wildfires and other problems that can take over a forest. Timber harvesting is one of the best ways to manage a forest while making the landowner successful in their investment...
---
Protecting Land with Wildlife Habitat Improvements in Lebanon
Wildlife in our protected forests these days are becoming scarcer due to the amount of foresting and cultivating of land. We are removing habitats while not realizing the importance of them. Today-more protective methods are taking place through wildlife habitat improvements...
If you are looking for a Holderness forestry management professional then please call 1-800-237-9253 or complete our online request form.