Highly Skilled Forest Management Contractors in Plymouth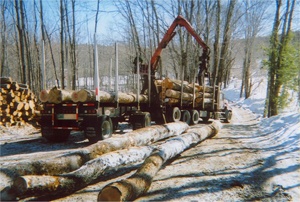 At Stillwater Forestry LLC, our Plymouth forest management contractors are proud to help property owners keep their land in the best possible condition at all times. We provide high quality forestry service such as timber harvesting, boundary line maintenance, and forest management plans. With our help, you can keep the forest on your land in the best condition for the purposes of your property ownership.
Call Stillwater Forestry LLC today if you need to consult with a forest management expert in Plymouth. Whether your land is held for commercial timber harvesting purposes, wildlife preservation, or for a residence, our professionals can help you keep you forest properly maintained. Our experts would be happy to answer any questions that you may have. We can schedule your appointment today.
Timber Value Appraisal Services in Plymouth
If you own land or plan to purchase land with the goal of harvesting timber, it is highly important for you to conduct a timber value appraisal. At Stillwater Forestry LLC, our experts can help you determine the current volume and value of timber located on your land or prospective property. In addition, we can provide you with critical information concerning the quality, quantity, and size of the timber on your property. All of this information can help you determine the fair market value of your timber given current market conditions.
Annual Forest Security Inspections in Plymouth
Owning a large expanse of forested land entails certain responsibilities. As an owner, you need to be aware of certain issues such as timber theft, trespassing, erosion, beetle infestations, fire lanes, nuisance animals, and more. By enrolling in our annual forest security inspection service, our Plymouth forest management experts will conduct these assessments for you and help you fulfill the unique obligations of owning forested lands.
Timber Harvesting Property Owner Services in Plymouth
If timber harvesting is occurring on your Plymouth property, it is important to have a plan in place in order to conduct these efforts in the best manner possible. At Stillwter Forestry LLC, our Plymouth forest management experts are here to help protect property owner's interests during the timber harvesting process.
With our assistance and advice, we can help you maximize the long-term, healthy, and financially viable woodlot on your property. Our knowledgeable experts know the best means of property preservation and work directly with logging company's that utilize the best practices. Throughout the process, we will ensure that you are maximizing the value of your land and your timber harvest.
Forestry Services in Plymouth
Plymouth, NH
Recent Articles
How Forestry Demands are on the Rise Through Timber Harvesting in St. Johnsbury
The United States Forest Service recognizes that it must drastically increase forest restoration work in order to alleviate threats that stem from wildfires and other problems that can take over a forest. Timber harvesting is one of the best ways to manage a forest while making the landowner successful in their investment...
---
Protecting Land with Wildlife Habitat Improvements in Lebanon
Wildlife in our protected forests these days are becoming scarcer due to the amount of foresting and cultivating of land. We are removing habitats while not realizing the importance of them. Today-more protective methods are taking place through wildlife habitat improvements...
If you are looking for a forest resource and wildlife management professional then please call 1-800-237-9253 or complete our online request form.