Your Sandwich Forestry Service Professionals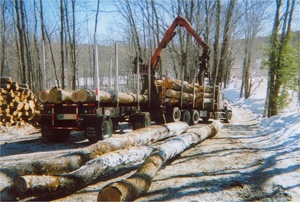 Owning forestland is certainly a boon in this part of the country. There is nothing quite as stunning plus it can be a wise investment. However, in order to keep it looking good and being lucrative you need professional Sandwich forestry management service. Locals here know that the name that you can trust for this type of service work is Stillwater Forestry LLC. We have the training, skills and experience required to provide each of our clients with exceptional results. The bottom line is that we take this line of work seriously, including taking great pride in the results that we leave behind for each customer.
There are so many different types of forestry management services that we can provide for our customer base. This is not the type of work that you can entrust to just anyone and you certainly cannot take care of it on your own. So give us a call today to find out more about what we can do for you.
Sandwich Timber Harvesting
What you may not already realize about timber harvesting is that there are a few different methods that can be used. Depending on your situation one or more of these approaches may be utilized:
Patch Cuts – As the name would imply, patches or clusters are harvested. These groups may be evenly or randomly spread across the parcel. It may also be used for mature or aged hardwoods.
Single Tree Selection – If you have ever seen trees marked then you have seen trees that were selected for this process. It is generally used as a thinning technique.
Shelterwood – The trees selected to remain act as shelter as well as sources for seeds for future trees.
Sandwich Boundary Line Maintenance
By now you probably realize that you need to be able to rely on a professional to address your need for property line maintenance. This is not the type of thing you can just let grow naturally, nor is it the type of task that you can take care of on your own. So make it a point to get the finest in skilled service work from our team.
Wildlife Habitat Improvement in Sandwich
Stillwater Forestry LLC is also the local leading service provider for wildlife habitat improvement. If you want to be able to attract and encourage wildlife on your land, you have to know what to have and what to avoid. We will educate you on this and help you achieve your goals. Make the most of your forest-filled land. Let our seasoned pros take care of your forest management service needs.
Recent Articles
How Forestry Demands are on the Rise Through Timber Harvesting in St. Johnsbury
The United States Forest Service recognizes that it must drastically increase forest restoration work in order to alleviate threats that stem from wildfires and other problems that can take over a forest. Timber harvesting is one of the best ways to manage a forest while making the landowner successful in their investment...
---
Protecting Land with Wildlife Habitat Improvements in Lebanon
Wildlife in our protected forests these days are becoming scarcer due to the amount of foresting and cultivating of land. We are removing habitats while not realizing the importance of them. Today-more protective methods are taking place through wildlife habitat improvements...
If you are looking for a Sandwich forestry management professional then please call 1-800-237-9253 or complete our online request form.