Unity, NH Professional Forest Management Services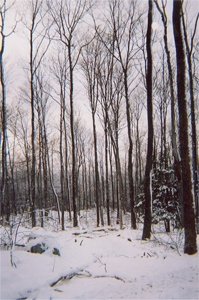 Unity, New Hampshire is a beautiful area of the United States to live. It is located in a forested area just East of the Connecticut River near Charlestown. Residents in the area enjoy this natural setting and take part in many outdoor activities like hunting, fishing, camping, hiking, and more.
This area of the country boasts much forestland. In fact, nearly the entire states of New Hampshire and Vermont are loaded with forests that are full of wildlife. Unfortunately, if an area goes neglected without proper management of the natural resources, the forestland can suffer the results.
Properly maintained land boundaries help to ensure safe habitats for wildlife. Management services for land owners ensure proper timber harvesting practices that keep the forestland healthy and renewable.
Stillwater Forestry LLC is a forest land management company that specializes in services for forest land owners. Our professional services ensure healthy wildlife, healthy forests, and safe management of your timberland.
Timber Harvesting
Boundary Line Maintenance
Forest Management Plans
Timber Value Appraisals
Timber Value Improvements
Annual Forest Security Inspections
Wildlife Habitat Improvement
Buyers of Standing Timber
Land Acquisition
Annual Forestry Inspection Services in Unity
Your forestland needs to be inspected annually if you want to ensure it remains in good condition. The erosion conditions, possible insect infestation problems, nuisance animals, monitoring timber conditions, and the proper maintaining of boundary lines are all important issues that need to be assessed and improved.
Your wildlife habitats need to be assessed and improved as well, so you ensure that the desired wildlife on your forestland is thriving. Possibilities and recommendations for timber sales is also evaluated.
With our professional forestry inspection services, you'll never have to worry about the conditions present on your land because you'll keep informed of any situations that need handling. Our professional advice will then help you to formulate a plan to keep the area safe for wildlife and protected from nuisance wildlife or trespassers.
Wildlife Habitat Improvement in Unity
Whether your forestland is intended for hunting use or you just enjoy nature and the wildlife around you, you'll want to ensure that the wildlife is thriving. Your needs and desires are all a part of the plan that will be implemented to care for your wildlife.
Wildlife in the area may need a little help with management techniques that supplement survival needs such as food plot, pond pools, or shelters. If so, the location of these supplemental areas is important. Our specialists can ascertain the area's needs and will help you ensure the right wildlife is thriving in your forests.
Providing These Unity Forestry Services
Recent Projects in Unity
Recent Articles
How Forestry Demands are on the Rise Through Timber Harvesting in St. Johnsbury
The United States Forest Service recognizes that it must drastically increase forest restoration work in order to alleviate threats that stem from wildfires and other problems that can take over a forest. Timber harvesting is one of the best ways to manage a forest while making the landowner successful in their investment...
---
Protecting Land with Wildlife Habitat Improvements in Lebanon
Wildlife in our protected forests these days are becoming scarcer due to the amount of foresting and cultivating of land. We are removing habitats while not realizing the importance of them. Today-more protective methods are taking place through wildlife habitat improvements...
If you are looking for a Unity forestry management professional then please call 1-800-237-9253 or complete our online request form.