Your Warner Forestry Service Professionals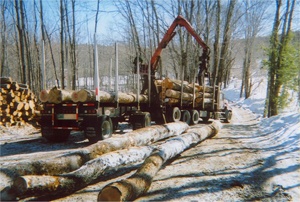 Maintaining woodlands is not one of those things that happens naturally. Nor is it something that you can take care of on your own. While owning land dense with beautiful trees is a benefit, it does come with the requirement of intensive property maintenance.
Stillwater Forestry LLC wants to be the team that you come to rely on, for this type of vital forestry management work. You may not even know what is going on deep in the thick of your heavily wooded forest land, but we will. It is our job to take care of this land for you by offering a variety of important Warner forestry management services.
Timber Harvesting
Boundary Line Maintenance
Forest Management Plans
Annual Forest Security Inspections
Wildlife Habitat Improvement
Timber Value Appraisals
Land Acquisition
Consulting
We are even honest and reputable buyers of standing timber. Don't take chances when it comes to the quality of service that goes into your forest-filled property.
Warner Timber Harvesting
Tree-lined land is nothing short of stunning, as well as valuable – as long as it is properly and professionally maintained. However, you could be seeing an even bigger profit simply by letting us work with you for timber harvesting. Let your land work for you and let us provide you with the service that you need. Timber is an essential part of providing logs for sawmills and offering habitat for wildlife. This is also a service that should be addressed in order to improve the health of the land and vegetation. Harvesting means the removal of diseased or insect infested trees lingering on your land.
Warner Boundary Line Maintenance
Since you cannot rely on fences to provide you with the property line division you can for standard residential land, it is vital to opt for professional boundary line maintenance. Our experts are able to help keep a clear and cared for division that separates your land from neighboring properties. This is important for a variety of reasons and must be executed by an industry expert familiar with this line of work.
Wildlife Habitat Improvement in Warner
Stillwater Forestry LLC is also the only company that you need to know in order to get service like wildlife habitat improvement. We know what to look for that tends to discourage wildlife as well as what changes to make in order to encourage it. To attract and maintain wildlife you need adequate food and shelter sources which we can help with. For this and all of your other forestry service management needs, call on the local experts.
Recent Articles
How Forestry Demands are on the Rise Through Timber Harvesting in St. Johnsbury
The United States Forest Service recognizes that it must drastically increase forest restoration work in order to alleviate threats that stem from wildfires and other problems that can take over a forest. Timber harvesting is one of the best ways to manage a forest while making the landowner successful in their investment...
---
Protecting Land with Wildlife Habitat Improvements in Lebanon
Wildlife in our protected forests these days are becoming scarcer due to the amount of foresting and cultivating of land. We are removing habitats while not realizing the importance of them. Today-more protective methods are taking place through wildlife habitat improvements...
If you are looking for a Warner forestry management professional then please call 1-800-237-9253 or complete our online request form.