Your Washington Forestry Service Professionals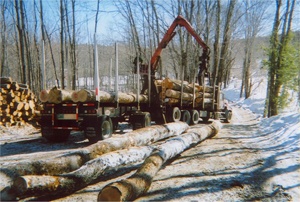 One of the things that this area is best known for is the lush forest-filled land here. Yet what many people do not think about, is the work that goes into maintaining this land as well. It takes a great deal of effort to maintain the area and actually make it look as natural as it does. This includes helping to keep the land and vegetation healthy.
This is where our team here at Stillwater Forestry LLC comes into the picture. We provide the best in superior quality Washington forestry management service, which is what keeps the system keep working the way that it does. It is beneficial for things like appraisals, border maintenance and improving the land in general. Much in the same manner you would hire a landscaping expert to take care of your residential lawn, you need one of our forestry management experts to care for your forest. Nature is made up up countless delicate balances and our job is to keep all of these in tact. Let our trained, experienced and seasoned experts provide you with the service work you need.
Washington Timber Harvesting
Want a way to make your land earn profit for you while also helping make it more healthy? Timber harvesting is a wise approach to rely on to help accomplish both. However, this is something that must be planned out and executed with great care. Some of what you should know about this type of service includes:
Cutting timber is not random. This is a well-planned service that involves strategy and preparation
This process can include a variety of methods such as patch cuts, shelterwood cutting and single tree cutting
This also helps to remove trees that need to be removed such as diseased or insect infested ones
To find out more all you have to do is give us a call. We look forward to working with you and helping you maximize your earnings while caring for the land that is so vital to the eco-system.
Washington Boundary Line Maintenance
When something on your personal land encroaches the neighboring property and causes damage, you are liable for this. For that reason it is essential to hire professionals to maintain your property and deal with any existing or potential problems. The same thing holds true for the boundary line of your forest-filled land too. Stillwater Forestry LLC is able to provide the best in boundary line maintenance, as well. Let us make sure that this, and all of your forest management services are executed with the utmost professionalism. To find out more about what we have to offer, get in touch with us today.
Recent Articles
How Forestry Demands are on the Rise Through Timber Harvesting in St. Johnsbury
The United States Forest Service recognizes that it must drastically increase forest restoration work in order to alleviate threats that stem from wildfires and other problems that can take over a forest. Timber harvesting is one of the best ways to manage a forest while making the landowner successful in their investment...
---
Protecting Land with Wildlife Habitat Improvements in Lebanon
Wildlife in our protected forests these days are becoming scarcer due to the amount of foresting and cultivating of land. We are removing habitats while not realizing the importance of them. Today-more protective methods are taking place through wildlife habitat improvements...
If you are looking for a Washington forestry management professional then please call 1-800-237-9253 or complete our online request form.