Forestry Service in Washington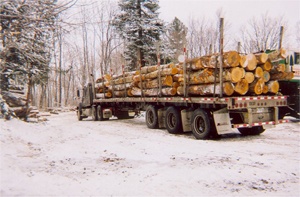 Washington is a small town in Orange County deep in the woodlands and hills of Vermont. It is a beautiful town in which several landowners have forests that reside on their acreage. Many landowners in this area use Stillwater Forestry Services in order to help them maintain their land and find healthy market value for the property. No forestry service in Vermont or New Hampshire knows the landscape better than our service. With several years of direct forestry service, we can help you with all the your woodland needs. Whether you're selling timber, preserving wildlife or beautifying the land, our Washington forestry services do it all.
How Much is Your Timber Worth?
The overall market value of the timber on y our property calculated using several key elements that may include tree population are on a given area of land. It is also determined by the current market prices for current harvests. We can help you access reports that provide important information regarding your timber such as the quality, quantity, type, and size of the timber. This helps us to calculate what the fair market value of your timber is. This is why it's important to have a professional appraisal performed by experts who know both the timber and the industry.
Yearly Security Inspections
We offer annual and bi-annual Washington security inspection in order to assess areas of your land that may otherwise be ignored. We inspect the entire perimeter of the landscape in order to identify areas of concern such as timber theft, trespassing and vandalism, erosion, insect invasions, wildlife, fire lanes, and, of course, tracking the growth of your timber. Inspections are valuable because they help you to take preventative measures before small problems become big problems that affect your land.
Wildlife Habitat Improvement
When purchase a piece of property in the Washington area, there's a good bet that there's substantial wildlife living on it. Preserving this wildlife is important for the environment and insures the survival of various species of birds, reptiles, mammals, fish and other animals. It's good for the entire ecological system of the land. We can assess and identify all the large and small game living in the forest and help you develop strategies that keep them healthy and thriving regardless of what you have planned for the timber.
Buyers of Standing Timber
If you're looking to find the total value of the Washington lumber on your property in order to settle for a total sum up front, then we can accommodate. Contact us and let us meet with you to see what the total value of your lumber is. When you sell your lumber to experts then you will often get better than market value and benefit from a proper harvest that will leave your land in condition once the job is done. We purchase standing timber in both the Vermont and New Hampshire area. We will give you a no-hassle quote and then do the work for you.
Providing These Washington Forestry Services
Washington, VT
Recent Articles
How Forestry Demands are on the Rise Through Timber Harvesting in Washington
The United States Forest Service recognizes that it must drastically increase forest restoration work in order to alleviate threats that stem from wildfires and other problems that can take over a forest. Timber harvesting is one of the best ways to manage a forest while making the landowner successful in their investment...
---
Protecting Land with Wildlife Habitat Improvements in Lebanon
Wildlife in our protected forests these days are becoming scarcer due to the amount of foresting and cultivating of land. We are removing habitats while not realizing the importance of them. Today-more protective methods are taking place through wildlife habitat improvements...
If you are looking for a Washington forestry management professional then please call 1-800-237-9253 or complete our online request form.