Bridgewater Forestry Services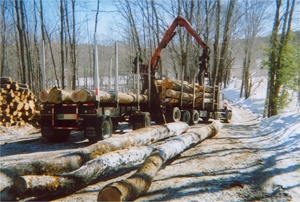 Maintaining the woodland areas of your property requires more work than maintaining your lawn. There are a large number of different tasks involved with forest ownership, and it can be difficult to juggle these by yourself sometimes. For all your Bridgewater forestry service needs, Stillwater Forestry LLC is here to help. We have been the premier name in forestry services in New Hampshire and Vermont since 2007. We offer comprehensive forestry services to fit the many needs of property owners in the Bridgewater area. We strive to help our clients keep their woodland areas beautiful season after season. Whether your land is held for timber harvesting purposes, wildlife preservation, or just as a private residence, out team of Bridgewater forestry management professionals can help you make the most of your woodland property. Contact our team of forestry management professionals today with any questions you may have, and let us schedule your free consultation today.
Bridgewater Timber harvesting
Timber harvesting is absolutely essential for maintaining a healthy woodlot. By clearing away dead timber and harvesting current growth, we are able to make room for new growth on your property. Our experts are able to identify the crop trees and those that are too weak or unproductive to be of benefits to your woodlands and weed them out. Alongside preservation, one of our foremost goals as a company is to help you, as a landowner, maximize your profits and get the most from your property. We offer comprehensive service to our clients including single tree selection, patch cuts, and shelterwood. During our free consultation, we will evaluate the timber on your property and present you with the options available to you.
Bridgewater Boundary Line Maintenance
As a property owner, it is important to know where the boundaries of your land are. This is especially important when you own several acres of woodland property. Keeping the boundary lines of your property clean and clearly marked is a good way to protect your land. Some of the services rendered during one of our comprehensive forestry maintenance services include:
Boundary Maintenance & Security
Establishing Clear Boundary Marking
Theft, Vandalism, & Trespassing Deterrent
Posting No Trespassing Signs
Boundary Cleaning & Brush/Foliage Clearing
Bi-Annual Forest Security Inspection Plan
It is important when looking for a forestry services contractor to go with one who takes the security of your property as serious as you do. Stillwater Forestry is one of the most trusted names in forestry services in the Bridgewater area. Call us today for your free consultation and let us help you get the most out of your woodland property.
Recent Articles
How Forestry Demands are on the Rise Through Timber Harvesting in St. Johnsbury
The United States Forest Service recognizes that it must drastically increase forest restoration work in order to alleviate threats that stem from wildfires and other problems that can take over a forest. Timber harvesting is one of the best ways to manage a forest while making the landowner successful in their investment...
---
Protecting Land with Wildlife Habitat Improvements in Lebanon
Wildlife in our protected forests these days are becoming scarcer due to the amount of foresting and cultivating of land. We are removing habitats while not realizing the importance of them. Today-more protective methods are taking place through wildlife habitat improvements...
If you are looking for a Bridgewater, VT forestry management professional then please call 1-800-237-9253 or complete our online request form.