Dependable Forestry Service in Fairlee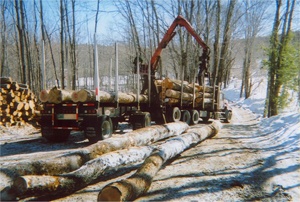 If you are landowner in Vermont or New Hampshire and you want to utilize your land for harvesting trees, then there are several things you should know. There are numerous factors that many property owners do not think about until it's too late. This is why it's important to hire a forestry company that has experience maintaining land and growing timber so that you can protect your woodlands while at the same time maximizing the profits that are possible with selling your trees.
We have built a reputation as Fairlee's premier forestry service. Our experienced consultants and contractors know what it takes to provide a full range of services for you and your property. We help you with every facet of forestry from timber harvesting and forest management and appraisal to habitat improvement, land acquisition, security inspections and even consulting. Our team is state certified and knowledgeable in all forestry matters. Contact us today for a free half-hour consultation and let us help you optimize your woodland.
Timber Harvesting
Preparing and harvesting your woodland timber for sale is more than just cutting down a few trees. It is more about preserving your land and securing your business for the future. Cutting trees has to be carefully planned and involves detailed strategy. We can help you through every step of timber harvesting by incorporating proven methods that keep your forest healthy and producing for years to come. We employ techniques such as single tree cutting, shelterwood cutting, and patch cuts. With proper methods and detailed cutting, we can help you become a reputable tree grower in Vermont and New Hampshire and across the Northeastern United States.
Boundary Maintenance and Security
One of the key elements to a successful tree farm is to secure your borders. There are several issues to consider, and we can help you navigate through each of them. Our Boundary protection service includes:
Boundary Maintenance and
Establishing Clearly Marked Boundaries
Theft Defense and Inspection
Posting Trespassing Signs
Security Inspections
Forestry & Wildlife Habitat Management
Your woodland property is its own eco-system filled with plants and animals that are dependent on each other in order to survive long-term. We specialize in across-the-board woodland and wildlife maintenance. Our protection cover key components including all waterbeds such as streams and ponds and wetlands, soil and erosion, and creating food and shelter for animals that you desire to live on your land. All services that we provide are designed to create a rich and fertile environment for all living plants and animals. For years now, we have successfully sustained thriving forests that are beneficial for everything living within them.
Providing These Fairlee Forestry Services
Recent Articles
How Forestry Demands are on the Rise Through Timber Harvesting in St. Johnsbury
The United States Forest Service recognizes that it must drastically increase forest restoration work in order to alleviate threats that stem from wildfires and other problems that can take over a forest. Timber harvesting is one of the best ways to manage a forest while making the landowner successful in their investment...
---
Protecting Land with Wildlife Habitat Improvements in Lebanon
Wildlife in our protected forests these days are becoming scarcer due to the amount of foresting and cultivating of land. We are removing habitats while not realizing the importance of them. Today-more protective methods are taking place through wildlife habitat improvements...
If you are looking for  New Hampshire or Vermont forestry management professional then please call 1-800-237-9253 or complete our online request form.