Hartland, Vt Professional Forest Management Services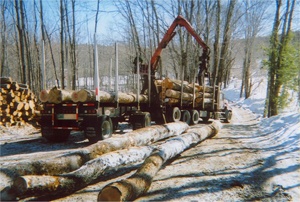 The Hartland, Vermont area of the United States is a lovely place to live. With all the camping, fishing, hunting, and other outdoor activities in the area, it's no wonder so many nature lovers flock to the area.
When you're visiting or living in the area, you'll be surrounded by forestland. It is truly one of the most peaceful and beautiful places to live.
The town of Hartland is a small town consisting of about 3,393 residents as of 2010. The villages of Hartland, Hartland Four Corners, and North Hartland are all a part of the town.
With the Connecticut river bordering the east side of Hartland, there are plenty of water inlets, waterways, brooks, and streams that help wildlife to flourish in the area.
With all the forestland, comes the need to properly manage it. At Stillwater Forestry LLC, we are a forest management services company that provides help to forestland owners. Our services can help you to manage your land effectively with maintained boundaries, wildlife habitat improvement, safety from trespassers, and important timber harvesting and management.
Timber Harvesting
Boundary Line Maintenance
Forest Management Plans
Timber Value Appraisals
Timber Value Improvements
Annual Forest Security Inspections
Wildlife Habitat Improvement
Buyers of Standing Timber
Land Acquisition
Annual Forestry Inspection Services in Hartland
The habitat that your wildlife lives in is of primary importance for many reasons. Whether you hunt wildlife or just enjoy it, you'll need to ensure that it lives healthy and has plenty of access to natural resources such as food, water, and shelter. This means a forestry inspection needs to be performed annually.
An annual forestry inspection services done by our specialists here at Stillwater Forestry LLC will take care of a number of issues that need to be assessed and improved wherever possible.
Sometimes the natural setting of a parcel of land isn't sufficient for the wildlife to thrive, so at times you may need to implement plans for it's continued survival. Inspections will assess the conditions of the forestland, habitats, timber conditions, boundary lines, and all other aspects of your forestland that would need attention or management.
The inspection will provide you with a plan to take proper care of the needs of your forestland, whether they be for wildlife, safety concerns, timber sales or renewable forestation needs.
Wildlife Habitat Improvement in Hartland
You may need to supplement the availability of water, food or shelter for your wildlife. Our wildlife habitat improvement services can improve this availability with food plots, pond pools, and shelters.
With our professional services, we'll help you to take your wildlife from survival mode to thriving mode, all while keeping in consideration with the type of wildlife you are interested in supporting.
Providing These Hartland Forestry Services
Recent Articles
How Forestry Demands are on the Rise Through Timber Harvesting in St. Johnsbury
The United States Forest Service recognizes that it must drastically increase forest restoration work in order to alleviate threats that stem from wildfires and other problems that can take over a forest. Timber harvesting is one of the best ways to manage a forest while making the landowner successful in their investment...
---
Protecting Land with Wildlife Habitat Improvements in Lebanon
Wildlife in our protected forests these days are becoming scarcer due to the amount of foresting and cultivating of land. We are removing habitats while not realizing the importance of them. Today-more protective methods are taking place through wildlife habitat improvements...
If you are looking for a Hartland forestry management professional then please call 1-800-237-9253 or complete our online request form.