Forestry Services In Killington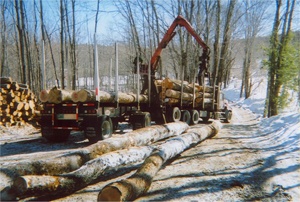 If you are in the market for an experienced Killington forestry management service in Killington, the professionals at Stillwater Forestry are here to help. Since 2007, we have been the premier forestry service for New Hampshire and Vermont. We offer a large range of services designed to help you keep your woodland areas looking beautiful throughout the year. At Stillwater Forestry LLC , we understand that your land is one of your greatest investments. As such, we keep your personal need at the forefront of every single forestry management service we offer. Take a look at our website to discover all the different ways we can help you make the most of your woodland areas.
Killington Timber Value Appraisals
The value of your forest may not be something that crosses your mind frequently, but when it comes time to sell, you want to be absolutely sure that you hire a contractor you can trust in order to get the most from your timber. The market value of your timber is generally determined through a number of different factors like how many trees are on a certain section of land, and the prices received from recent harvests. We will help you access reports that will give you valuable information about your timber ranging from the quality, quantity, type, and size of your timber. This will help us to calculate an accurate estimate of the fair market value of your timber which will help you enormously when it comes time to sell. The complexity of this service is precisely why it is important to have your appraisal performed by an expert who know both the timber and the industry buying it.
Killington Boundary Line Maintenance
As a property owner, it is important to have the boundary of your property clearly marked for the benefit of neighboring land owners, hunters, and potential trespassers alike. Maintaining a clear boundary line in your forest can also help you save money as it is a much cheaper alternative than surveying, which can cost you a small fortune. Having the lines of your forest clearly marked serves as a deterrent to timber theft, whether accidental or intentional, and helps to reduce or eliminate trespassing as your signs will not be obscured by brush or foliage. Clearly marking the boundaries to your land also serves to increase the value of your land by taking the guesswork out of exactly how much of it you own.
Full Service Forestry Management In Killington
One of the other benefits to hiring the professionals at Stillwater Forestry is that it eliminates the need of having to hire different forestry companies in order to complete all of your work. We provide a wide array of comprehensive forestry services to suit all your needs. Our services include, but are not limited to:
Timber Harvesting & Appraisals
Annual Forest Security Inspections
Wildlife Habitat Improvements
Recent Articles
How Forestry Demands are on the Rise Through Timber Harvesting in St. Johnsbury
The United States Forest Service recognizes that it must drastically increase forest restoration work in order to alleviate threats that stem from wildfires and other problems that can take over a forest. Timber harvesting is one of the best ways to manage a forest while making the landowner successful in their investment...
---
Protecting Land with Wildlife Habitat Improvements in Lebanon
Wildlife in our protected forests these days are becoming scarcer due to the amount of foresting and cultivating of land. We are removing habitats while not realizing the importance of them. Today-more protective methods are taking place through wildlife habitat improvements...
If you are looking for a Killington, VT forestry management professional then please call 1-800-237-9253 or complete our online request form.