Professional Lyndonville Forestry Management & Consulting Service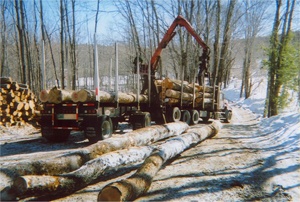 If you are looking for help from a local Lyndonville forest management service, need timber value appraisal, are looking for a buyer for standing timber, or need wildlife habitat improvement service, you've come to the right place.
Many timber land owners in the Lyndonville and surrounding areas trust Stillwater Forestry, LLC for a variety of services. Our New Hampshire Forestry Management services include all aspects of timber harvesting for landowners and their contractors.
With Stillwater Forestry, LLC, our professional forest management services are reasonably priced and reliable. We focus on adaptive forest management to ensures wildlife thrives in healthy natural environment. We also assist owners with boundary line maintenance and annual forest security inspection services.
Forestry Management Service
Timber Improvement Services
Wildlife Habitat Improvement Services
Land Acquisition Services
Timber Consulting Services
Timber Harvesting Services
Buyers Of Lyndonville Timber
Lyndonville Forest Management Services
Many times, owners need assistance with managing their forested land. At Stillwater forestry, LLC, you have a local Lyndonville forestry management service you can count on.
Our professionals focus on improvements that ensure healthy wildlife that thrives in an environment that supports their needs. We offer solid options so your property is managed and improved for the sake of the environment and your investment.
Boundary Line Maintenance
Annual Forest Security Inspections
Wildlife Habitat Improvement
Timber Value Improvements
Expert Lyndonville Timber Consulting Services
If you are a timber product manufacturer who is considering expanding to the northeast, you'll find our consulting service invaluable. A fiber availability study can provide you with an in-depth analysis for the area.
You will have information on product species, wood flow, logging contractor availability, and an accurate understanding of the competition. Our Lyndonville timber consulting service offers procurement strategies with solutions for you to receive a steady supply of material affordably.
Annual Forestry Inspection Service In Lyndonville
An annual forestry inspection service provides you with written reports that detail the current condition of the properties boundaries, habitat, wildlife species, and more.
This information is useful to prevent problems such as criminal land use, boundary encroachment, undesirable wildlife, insect infestations, timber theft, and more. Ask us about our service packages that offer a combination of inspections and other services at a great price.
For professional Lyndonville, VT Forest Management Services, please call 603-865-1167 or complete our online request form.