Seeking Montpelier Forestry Services?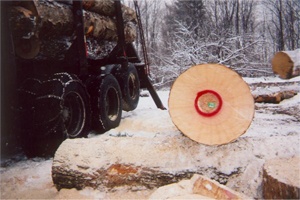 The city of Montpelier, Vermont serves as the capital as well as the shire town of Washington County. It is the site of the Vermont State House seat of the legislative branch of the Vermont government. The population is a little over 7,800. The town is considered to be the smallest state capital of the United States. Stillwater Forestry LLC provides forest management services to the area. If you need maintenance, inspections, or improvements done to your tract of land, call us.
Annual inspections are very important to the vitality of a forest as it must be kept up with in order to flourish to the owner. An inspection can protect your property too. The overgrowth of shrubs and trees can distract others by throwing them off the beaten path.
We come in and clean those areas up. No matter what you use your forestland for, our company can help with commercial or recreational use.
Montpelier Timber Harvesting
Clearcuts can be a resourceful way to convert unhealthy timber stands to becoming healthy again. Timber harvesting incorporates different methods. Clearcutting is one of the most used methods because it allows forest managers to control their tree species. Clearcutting also provides:
The removal of all canopy covers
Creates habitat for various wildlife species
Creates edges
Call to take advantage of our timber harvesting service so that you can control the timber on your land and find out why we are the forestry service professionals to call on for such things. We care about the fate of your land and how it is maintained.
Montpelier Annual Forest Security Inspections
When most of us think of boundaries, we often do not consider our properties. The woods are often neglected the most, but the forests are areas where you do not just want any one tromping in through. Illegal timber theft and hunting happens all the time and sometimes without notice.
You should protect your land. Stillwater Forestry LLC can locate and mark property corners and boundary lines using a special type of paint. This will keep those boundary lines visible for at least 5-10 years or more.
We often recommend "Posted" signs to be installed along those boundaries as they serve as reinforcement. By simply marking off the perimeters of your property, you will be reducing your liability and improving timber management activities.
Call Stillwater Forestry LLC today and take advantage of our Montpelier forestry services. You can rest assure that when you hire us, you and your forestland will be in the best of hands. Don't miss out on adding more value to your property through our services.
Providing These Montpelier Forestry Services
Recent Articles
How Forestry Demands are on the Rise Through Timber Harvesting in St. Johnsbury
The United States Forest Service recognizes that it must drastically increase forest restoration work in order to alleviate threats that stem from wildfires and other problems that can take over a forest. Timber harvesting is one of the best ways to manage a forest while making the landowner successful in their investment...
---
Protecting Land with Wildlife Habitat Improvements in Lebanon
Wildlife in our protected forests these days are becoming scarcer due to the amount of foresting and cultivating of land. We are removing habitats while not realizing the importance of them. Today-more protective methods are taking place through wildlife habitat improvements...
If you are looking for a Montpelier forestry management professional then please call 1-800-237-9253 or complete our online request form.