Peacham Forest Management Services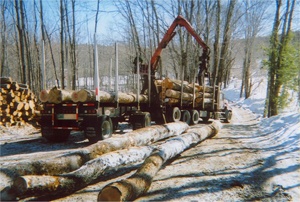 Taking care of the task of finding the right team to trust in for your Peacham forestry management service is essential for your land and wildlife preservation. At Stillwater Forestry LLC we are proud and honored to be the local leading choice for this type of service; we care as much about your forestland as you do and that shows in the results that we provide for our clients. Since 2007, we have been providing this important service to our clients and proving how important preservation is to our company, as well as how essential it is in general.
It is both an honor and a privilege to be able to provide our clients with the land management they need, as well as have the opportunity to educate them more about what is involved and why it is essential. For each tree and all the wildlife that makes up your forestland, we want to be able to help you care for it all, so give our forestry service a call today so that we can get started.
Expert Timberland Management in Peacham
Timberland management is an essential part of the job and Stillwater Forestry LLC is just the crew to take care of this for you. We want you to be able to worry about less by letting us take care of this for you. We will explain to you what your options are, as well as suggest methods that would work best for your unique situation. Plus, you can feel confident knowing that we will work only with a responsible and professional logging contractor to take care of any timber harvesting that is needed.
Annual Forestry Inspection Services in Peacham
One of the best ways to take care of your land, is by knowing what is going on. Instead of taking the time and effort required to travel to yourself, let us share with a detailed report with you, of the data we find, during our bi-annual inspections. During our spring and fall evaluations, we will monitor for problems like erosion, timber theft or pest infestations. This is all key to helping your land thrive and not end up with any costly and detrimental surprise problems.
Wildlife Habitat Improvement in Peacham
We also offer a variety of tasks that can help a great deal, when it comes to wildlife habitat improvement. From planting food plots to implementing conifers for shelter, we want to be a part of helping you attract the wildlife you want. Stillwater Forestry LLC is the only name that you will ever need to know, when it comes to your desire for superior quality Peacham forestry management.
Forestry Services in Peacham
Peacham, VT
Recent Articles
How Forestry Demands are on the Rise Through Timber Harvesting in St. Johnsbury
The United States Forest Service recognizes that it must drastically increase forest restoration work in order to alleviate threats that stem from wildfires and other problems that can take over a forest. Timber harvesting is one of the best ways to manage a forest while making the landowner successful in their investment...
---
Protecting Land with Wildlife Habitat Improvements in Lebanon
Wildlife in our protected forests these days are becoming scarcer due to the amount of foresting and cultivating of land. We are removing habitats while not realizing the importance of them. Today-more protective methods are taking place through wildlife habitat improvements...
If you are looking for a forest resource and wildlife management professional then please call 1-800-237-9253 or complete our online request form.