Expert Forestry Services In Springfield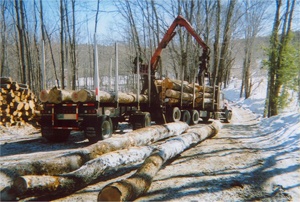 There is nothing quite like owning your own land, and forested land is no different. As those of us in Springfield and the surrounding Vermont and New Hampshire areas know, our timberland is something special. Those of us that own it understand that keeping our timberland property beautiful isn't as much a responsibility as it is a privilege. That said, however, properly managing your forested land can be a lot of work when trying to do it all by yourself. At Stillwater Forestry LLC , we understand the joys and frustrations that come with owning woodland property, and we offer comprehensive Springfield forestry management services to our clients to help you get the most from your land while helping to keep it lush and beautiful year after year. We understand that without our trees and the healthy environments they provide for our wildlife, the natural beauty of our area of the country would suffer greatly.
Stillwater Forestry is one of the most trusted names in forestry services in the Springfield and surrounding Vermont areas, and we make it our mission to help forest land owners manage their forested properties, and to help them thrive and continue to enhance the natural beauty of our homes. To that end, we provide a number of comprehensive forestry management services to our clients including:
Timber Harvesting
Boundary Lines Maintenance
Forest Management Plans
Wildlife Habitat Improvement
Timber Value Appraisals & Improvements
Forest Management Plans for Springfield
We understand that you have particular goals in mind for your timberland property, and our experts are here to help you achieve those goals. Whether you are trying to support wildlife growth on your land for hunting purposes, or just trying to enjoy the serenity of a natural setting, we can help you come up with a detailed plan of how to get your land working for you. The status of your timber, your wildlife conditions, and the general safety of your land are all things we can help you assess and improve. After performing our assessment, we will provide you with detailed plan of what steps need to be taken to get your forestland working how you want it to.
Springfield Wildlife Habitat Improvement
If you are looking to preserve existing wildlife on your property, or to encourage new wildlife to make its home there, we offer full inspection services to help evaluate what different types of wildlife would be ideal for your land, and can even create environments to help attract different types of animals. Whether you are looking to create environments for birds, deer, grouse, or even black bears, we can help. Give us a call today to schedule your free consultation, and let our team of professionals help bring out the full potential of your woodland property
Recent Articles
How Forestry Demands are on the Rise Through Timber Harvesting in St. Johnsbury
The United States Forest Service recognizes that it must drastically increase forest restoration work in order to alleviate threats that stem from wildfires and other problems that can take over a forest. Timber harvesting is one of the best ways to manage a forest while making the landowner successful in their investment...
---
Protecting Land with Wildlife Habitat Improvements in Lebanon
Wildlife in our protected forests these days are becoming scarcer due to the amount of foresting and cultivating of land. We are removing habitats while not realizing the importance of them. Today-more protective methods are taking place through wildlife habitat improvements...
If you are looking for a Springfield, VT forestry management professional then please call 1-800-237-9253 or complete our online request form.