A Dependable Tunbridge Forestry Management Service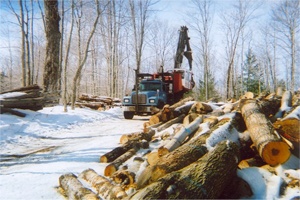 Until you own this type of land, you don't give much thought to needing an expert to take care of your Tunbridge forestry management service. This is one of the responsibilities that comes with owning this type of land, and locals will tell you that the name to entrust to take care of this service just happens to be Stillwater Forestry LLC. We take great pride in the work that we do and the opportunity that we have to be able to help care for the needs of our clients.
For approximately a decade now, we have been the company that locals come to for helping to take care of their forestland; from the timber to the wildlife, we want to be able to help with it all. It is essential to be able to maintain and preserve this land in order to keep it thriving and make it a great place for certain desirable species of animals. Get in touch with our forestry service now to find out more about how we can help take care of your land.
Expert Timberland Management in Tunbridge
There is a lot more involved in timberland management than one might think, which is why it is best to leave it to trained, skilled and experienced pros. At Stillwater Forestry LLC we know all the ins and outs of the job, from preventing theft to healthy harvesting. We know the careful planning involved and how important it is to only work with a conscientious logging contractor for harvesting. We want to be a part of helping you manage your land and have the results that you wanted.
Annual Forestry Inspection Services in Tunbridge
We can also provide for you, a bi-annual inspection of your forestland in order to keep you up to date on the current condition. You cannot simply let the land go and hope for the best; there is a science to keeping track of what is going on and making changes to help keep things in tact. The last thing you want to do is wait for years only to find out your land is compromised by an insect infestation or timber thieves.
Wildlife Habitat Improvement in Tunbridge
Imagine all of the wildlife that could and should be making your plot of land their natural habitat. Yet, without proper care, this may not be the case and you could even end up driving these creatures away. Stillwater Forestry LLC wants to be a part of making sure that, among other things, you are able to attract and keep the desired wildlife. For all of of your Tunbridge forestry management, we are the company that you can trust in to get the job done.
Forestry Services in Tunbridge
Tunbridge, VT
Recent Articles
How Forestry Demands are on the Rise Through Timber Harvesting in St. Johnsbury
The United States Forest Service recognizes that it must drastically increase forest restoration work in order to alleviate threats that stem from wildfires and other problems that can take over a forest. Timber harvesting is one of the best ways to manage a forest while making the landowner successful in their investment...
---
Protecting Land with Wildlife Habitat Improvements in Lebanon
Wildlife in our protected forests these days are becoming scarcer due to the amount of foresting and cultivating of land. We are removing habitats while not realizing the importance of them. Today-more protective methods are taking place through wildlife habitat improvements...
Recent Projects in Tunbridge, VT
If you are looking for a forest resource and wildlife management professional then please call 1-800-237-9253 or complete our online request form.