Forestry Services in New Hampshire and Vermont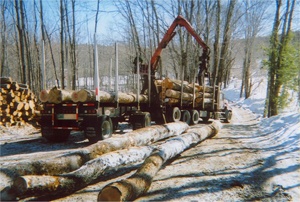 If you own woodlands and are trying to figure out how to best utilize them, then contact Stillwater Forestry. We are New Hampshire and Vermont's forestry authority. We offer a wide range of forestry services that help to meet all your needs as a landowner. Whether you're trying to harvest timber, secure boundaries, create a haven for wildlife, or simply want to know exactly what is on your land, we can help you make the most your property. Contact us today for a free 30-minute consultation. We are the forestry experts in Vershire.
Buyers of Standing Timber
If you're looking to find the total value of the lumber on your property in order to settle for a total sum up front, then we can accommodate. Contact us and let us meet with you to see what the total value of your lumber is. When you sell your lumber to experts then you will often get better than market value and benefit from a proper harvest that will leave your land in condition once the job is done. We purchase standing timber in both the Vermont and New Hampshire area. We will give you a no-hassle quote and then do the work for you.
Land Acquisition
Now is a great time to turn all or part of your land in timberland. Growing trees for timber is a safe protection against inflation. Geographically speaking, the Northeastern part of the United States is an ideal location for growing and harvesting timberland. If you are a landowner looking to invest in new land or convert your current woodland then we can help you through every step of the investment. We are Vermont's and New Hampshire's foremost land consultants.
Timber Harvesting in Vershire
With the right planning and strategy, timber harvesting is ideal for creating a profitable woodland property. We help you grow the healthiest forestry yet by clearing out the weed trees while nurturing the crop trees, thus, creating a perfect environment for your forestry business. When you partner with Stillwater Forestry to grow and sell your timber, you will see the results that you are looking for - lush, fertile woodlands that yield great profits. We generally use one of 3 methods to harvest your trees - single tree, shelterwood, and patch cuts.
Boundary Line Maintenance
Now that you own land, you'll quickly find that maintaining your property and securing it's borders is a daunting task. This is why we provide professional boundary line maintenance. This is invaluable service that protects your woodlands. Boundary line maintenance is far less expensive than a survey. It also reduces the chances of theft from occurring, because the boundary lines are clearly marked. We also post no trespassing signs all along your land if you desire this service.
Providing These Vershire Forestry Services
Recent Articles
How Forestry Demands are on the Rise Through Timber Harvesting in St. Johnsbury
The United States Forest Service recognizes that it must drastically increase forest restoration work in order to alleviate threats that stem from wildfires and other problems that can take over a forest. Timber harvesting is one of the best ways to manage a forest while making the landowner successful in their investment...
---
Protecting Land with Wildlife Habitat Improvements in Lebanon
Wildlife in our protected forests these days are becoming scarcer due to the amount of foresting and cultivating of land. We are removing habitats while not realizing the importance of them. Today-more protective methods are taking place through wildlife habitat improvements...
If you are looking for  New Hampshire or Vermont forestry management professional then please call 1-800-237-9253 or complete our online request form.