Seeking White River Junction Forestry Services?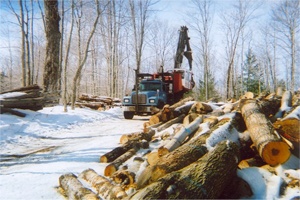 The White River Junction is an unincorporated village in the town of Hartford which lies in Windsor County, Vermont. The population is over 2,200 as it is the largest community within the town of Hartford. Most of the area is forest which can be attended to by the professional forest management experts at Stillwater Forestry LLC. We are a forest guided service that can help commercial and residential timber enthusiasts.
Timber is often considered to be the main part of forestland as it makes up for a large percentage of it. Timber, if taken care of properly, can be quite the investment as it can be resold in order to create lumber for building homes and other types of construction use.
We can come out to your land and appraise the timber. Our timber value appraisals are part of the forest management that we can provide. First we come up with your objectives and goals for the future of your land and go from there as we take into consideration the property location and history.
White River Junction Timber Harvesting
One of the best ways to make income from your land while simultaneously improving the long term health and value of your forest is through a well planned and administered timber harvest.
We don't work with just any Vermont or New Hampshire logging contractor – when it comes to cutting your trees. Only the most professional, conscientious New Hampshire and Vermont loggers and logging contractors work with us. Proper planning goes into the process thus insuring New Hampshire and Vermont landowners have a timber harvest that leaves them satisfied with the results. We reduce the stress without leaving your woods a mess!
White River Junction Annual Forest Security Inspections
The property lines that are set up by the landowner define the perimeters. They should not be crossed unless one has permission to be on their land. Protecting the property is a large part of landownership that so many tend to ignore. Security for a property prevents:
Theft
Trespassing
Illegal logging
When it comes to protecting your property, it is important that you call in the experts at Stillwater Forestry LLC. We will survey your land and set up your borders. We don't mind going the extra mile for our clients and it shows.
Get your White River Junction forestry services scheduled today. You'll feel safer on your property while keeping trespassers and hunters off your land.
Providing These White River Junction Forestry Services
Recent Articles
How Forestry Demands are on the Rise Through Timber Harvesting in St. Johnsbury
The United States Forest Service recognizes that it must drastically increase forest restoration work in order to alleviate threats that stem from wildfires and other problems that can take over a forest. Timber harvesting is one of the best ways to manage a forest while making the landowner successful in their investment...
---
Protecting Land with Wildlife Habitat Improvements in Lebanon
Wildlife in our protected forests these days are becoming scarcer due to the amount of foresting and cultivating of land. We are removing habitats while not realizing the importance of them. Today-more protective methods are taking place through wildlife habitat improvements...
If you are looking for a White River Junction forestry management professional then please call 1-800-237-9253 or complete our online request form.