New Hampshire Timber Prices 2022
The markets for hardwood logs remain strong which has resulted in above average prices. Markets for softwood logs – pine and spruce – remain strong as well. Mill delivered prices are above historical averages as well. Below is a summary of the various wood products.
Hardwood Logs:
Prices vary according to species and markets.
Oak: The market for oak sawlogs and veneer remain steady and relatively strong. The key to getting the best prices is to make sure your logs are sorted for their highest value and shipped to the best paying market. Stumpage prices range from $ 300 – 475 p/mbf for woods run oak including veneer.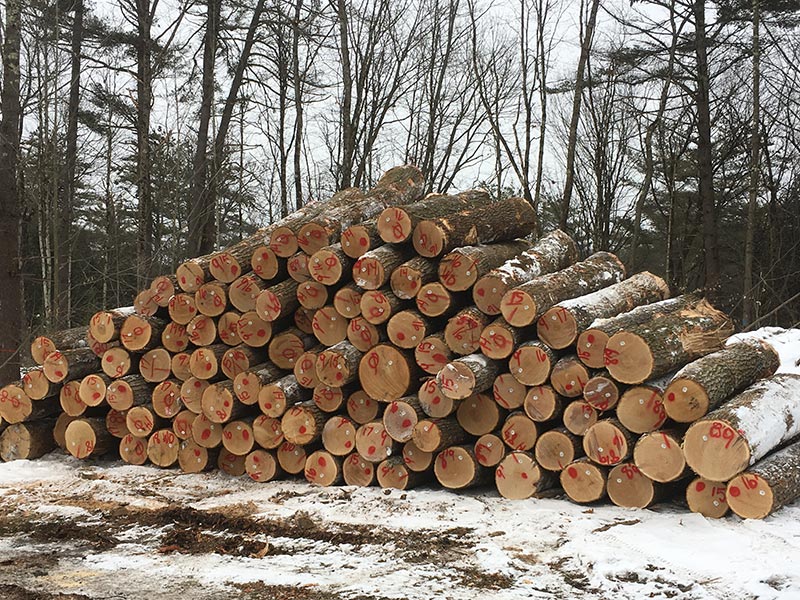 Red Maple: Demand is very strong and delivered prices remain higher than they were a year ago. The lumber markets for this species are driven by domestic demand. Stumpage prices range from between $175 -300 depending on hat market your logs are sent to.
Sugar Maple: Prices for sugar maple sawlogs and veneer are extremely strong. This has translated into some of the best stumpage prices we have seen in over a decade. Stumpage prices range from $ 400-600 p/mbf. for woods run sugar maple with veneer included. Prices are dictated by quality, size and percent of veneer found within the stand.
Yellow Birch: One of the few species of hardwood where the prices have remained flat. If you have a forestry company like Stillwater Forestry LLC working on your behalf, proper sorting and marketing will tend to generate higher pricing on this species. Stumpage prices range from $ 150 -300, depending on quality, size, % of veneer and what market the logs are shipped to.
Ash: Prices are strictly driven by what the purchaser is doing with the logs. Currently the export market for Ash logs is very strong. Domestic buyer of ash logs are strong as well.. but the export market is currently driving prices. Stumpage prices range from $175-300 depending on size, quality and proximity to market.
Mat/Tie Logs: Steady demand and strong pricing. This market allows us to turn lower grade logs ,that would have formerly gone into pulp, into a higher value product. Prices range from $ 125-200 p/mbf.
Oak & Sugar Maple Pallet: Strong demand has resulted in high delivered prices for this product. This is particularly the case where the logs are exported to Canadian flooring markets. Stumpage prices range from between $ 90-150 p/mbf.
Softwood Logs:
Spruce: A red hot housing market, combined with low inventory of lumber has resulted in extremely strong demand for dimensional softwood lumber. The spruce/fir mills are running full bore, need logs and are willing to pay competitive prices to get them. The end result, some of the highest spruce/fir logs prices in my entire career. Stumpage prices range from $ 160-240 p/mbf. depending on where the woodlot is located.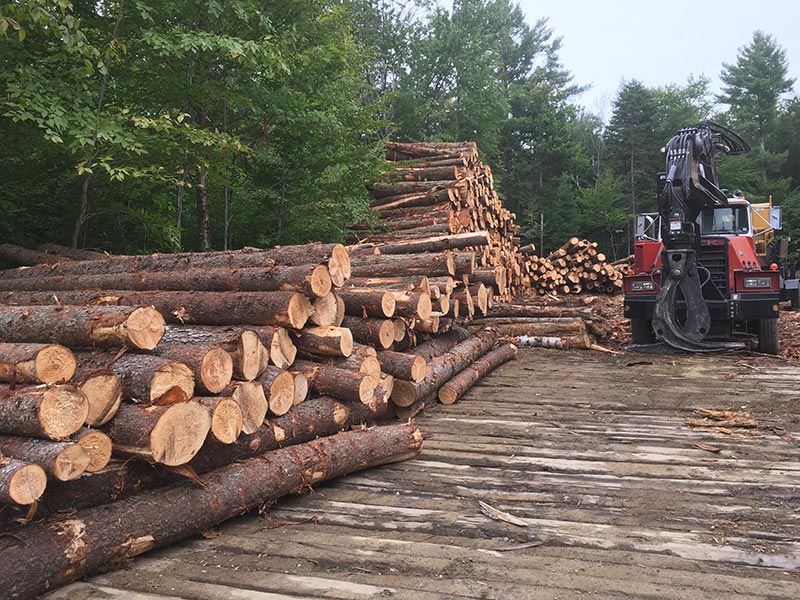 White Pine: Demand is up along with prices. Just like spruce/fir the strong housing has driven demand for white pine lumber very high. This past winter we received stumpage prices that were the highest we have ever seen. Stumpage prices range from $ 175 – 210 depending on quality and proximity to mill.
Hemlock: Prices are up slightly compared to historical norms. Demand is strong with the few domestic hemlock mills and the larger mills in Canada all looking to purchase it. Stumpage prices range from $ 65 -85 p/mbf.
Hardwood Pulp: Markets are wide open with no delivery quotas in sight. Prices remain steady. Expect anywhere from $ 2 – 7 p/ton depending on your location.
Softwood Pulp: Demand remains strong but prices remain soft. Stumpage prices range from $ 1-5 p/ton depending on location.
Biomas Chips: The biomass chip market continues to barely exist. Only two working biomass plants– who regularly pay their suppliers- exist within the state. The larger of the two - Burgess Power - is located up in the far northern part of NH. Unfortunately the distance makes it impractical to truck biomass chips up there from anywhere south of Concord, NH. Any lands we manage south of Concord we have accepted the fact that biomass chipping is not an option. Stumpage prices range from $0 -2 p/ton. Any money you receive for biomass chips will be directly tied to how close your property is to the plant.
If you are looking for a timber harvester and wildlife management professional then please call 1-800-237-9253 or complete our online request form.