New Hampshire and Vermont Boundary Line Maintenance Experts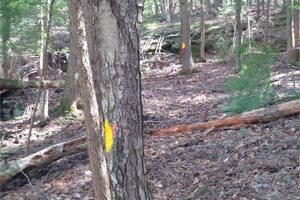 Boundary line maintenance involves the brushing out and and remarking of existing forestry property lines. When a property line is marked properly, it is highly visible from a distance and helps to prevent  accidental and intentional trespassing along with timber theft. Call Stillwater Forestry LLC for more ways in which refurbished boundary lines can help on your property. You can rely on our Forest Management Services to get the jod done right!
Benefits of Boundary Lines
Cheaper Than A Survey : Wait too long – evidence gets lost to time. This will require a resurvey.
Deters Timber Theft : Well maintained property lines help to deter accidental and intentional timber theft. If a line is well maintained the offending party cannot plead ignorance.
Can Increase Land Value : Higher resale potential – when it comes time to sell your land.
Knowledge : You always know where your boundary lines are located.
Posting Against Tresspassing : Maybe you want to include posting in your line maintenance package. We can do that too! We order the signs and put them up in a manner that makes them visible.
Why Choose Stillwater Forestry LLC?
Quality Service: We brush out your line of sight. ( most other Vermont and New Hampshire forestry companies don't do this). For No Tresspassing signs we use top quality plastic or aluminum – not cheap flimsy paper
Quality Product: Our boundary line maintenance uses a high quality, long lasting paint. No cutting corners to save money. Junk paint has no place on our lines!
Efficient: Over the last 7 years, we have refurbished 400 + miles of boundary lines for one prominent timberland investment company in northern New Hampshire . Stillwater Forestry LLC knows boundary lines ! We refurbish them effectively and efficiently – saving Vermont and New Hampshire landowners money!
Don't just go with any contractor; go with the ones who have the most experience in New Hampshire boundary line maintenance and Vermont forestry management. Stillwater Forestry LLC has the expertise and equipment that you need for protection, value, and safety.
Forestry Services in New Hampshire & Vermont
Timber Harvesting
Boundary Line Maintenance
Forest Management Plans
Timber Value Appraisals
Annual Forest Security Inspections
Wildlife Habitat Improvement
Timber Value Improvements
Buyers of Standing Timber
Land Acquisition
Areas We Provide Boundary Line Maintenance Services
New Hampshire - Lebanon, NH | Keene, NH | Concord, NH | Littleton, NH | Berlin, NH - Vermont - St Johnsbury, VT | Rutland, VT | Montpelier, VT | White River Junction, VT | Brattleboro, VT
Recent Boundry Line Maintenance Projects Completed
If you are looking for a New Hampshire boundary line maintenance or Vermont boundary line maintenance professional then please call 1-800-237-9253 or complete our online request form.