Your New Hampshire and Vermont Timber Harvesting Specialist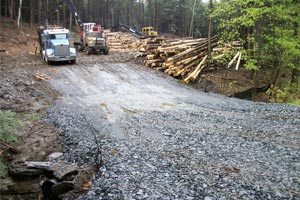 A timber harvesting in New Hampshire and Vermont can be a vital tool for achieving a long- term, healthy, financially viable woodlot. In order for this to be achieved there needs to be a plan in place, before the trees are cut that focuses on removing the least valuable stems ( the weed trees) during the harvest ,while retaining the highest quality stems ( crop trees) - for future growth. Simultaneously, you as the landowner need to make the most amount of money possible during this process. We are not a Vermont timber harvesting or New Hampshire logging company – we are a fully licensed Forest Management Services company. There is a big difference! Stillwater Forestry LLC works directly for you ! We are the experts in the middle making sure that your interests are covered throughout the entire timber harvesting process.
Harvesting Methods
Single Tree Selection: A timber harvest that is essentially a thinning. We mark, with paint those trees that get cut and all others are left standing. We most commonly employ this method in un-even age hardwood stands – most commonly found on the parcels we manage in Vermont.
Shelterwood: In this type of timber harvest we leave scattered large mature trees in the overstory while removing everything else. We utilize this harvest method in those forest stands where previous "highgrade" ( cut the best leave the rest) harvests took place. The mature trees left behind act as seed sources for future forest growth. We use this forest management method on some of the oak forested parcels in New Hampshire and "degraded" hardwood stands in Vermont.
Patch Cuts: Small groups that are anywhere from 1/10 to 1/4 in size. These groups are spread across the parcel either evenly or randomly – depending on the forest type. All trees in the groups are harvested. We utilize this method on forested parcels where improved wildlife habitat ( particularly ruffed grouse/woodcock) is a client objective. This is also employed in mature, even age hardwood stands – commonly found on forest lands in Vermont.
How The Timber Harvest Process Works
We meet, discuss your objectives, look at access and determine if a timber harvest is feasible.
You sign a "Contract For Services" agreement– No money is required up front We don't get paid until the timber is cut!
Stillwater Forestry LLC plans and lays out the harvest. This involves marking the timber to be cut, filing necessary permits etc..
Stillwater Forestry LLC presents to you –before the start of the harvest, an accurate estimate of what you will receive.
Stillwater Forestry LLC finds the best suitable New Hampshire or Vermont logging company for the job.
Stillwater Forestry LLC administers the entire harvest from start to finish.
No stress, no mess – you just sit back and cash the checks!
Why Choose Stillwater Forestry?
We are up to date on the timber markets: We take seriously our fiduciary responsibility to our clients. The owner of Stillwater Forestry LLC is extremely well connected in the industry. He knows what species are in demand and what the prices are for them. This market/industry knowledge enables us to know what your wood is worth and whether or not it's a good time to sell.
High standards & quality woods work: We have very high standards for the Vermont & New Hampshire logging companies that work for us. We don't work with just any logging companies, instead we choose to work with those who care for the land and take pride in doing high quality work. We have a handful we work with regularly .They've never let us down yet!
Timely, orderly payments and paperwork: No waiting for payments , no messy or incomplete paper work. We don't like when others do it to us – so we maintain the same standards for our clients.
No payment until the wood is sold: On our timber sale service there is no money expected for payment until the timber is cut and sold. No upfront costs to you – just income in your pocket!
Call the licensed New Hampshire forester professionals at Stillwater Forestry LLC today. We can provide the expert advice and third party protection that will insure that you have a timber harvest that goes smoothly from start to finish. We are the home of the 'No Stress Timber Harvest". We are the New Hampshire forestry company that savvy landowners turn to – when they want the job done right!
Forestry Services in New Hampshire & Vermont
Timber Harvesting
Boundary Line Maintenance
Forest Management Plans
Timber Value Appraisals
Annual Forest Security Inspections
Wildlife Habitat Improvement
Timber Value Improvements
Buyers of Standing Timber
Land Acquisition
Areas We Provide Timber Harvesting Services
New Hampshire - Lebanon, NH | Keene, NH | Concord, NH | Littleton, NH | Berlin, NH - Vermont - St Johnsbury, VT | Rutland, VT | Montpelier, VT | White River Junction, VT | Brattleboro, VT | Hartland, VT | Norwich, VT | Thetford, VT | Brownsville, VT | Weathersfield, VT
Recent Timber Harvest Projects Completed
If you are looking for a New Hampshire timber harvesting or Vermont timber harvesting professional then please call 1-800-237-9253 or complete our online request form.