Timber Value Appraisals in New Hampshire and Vermont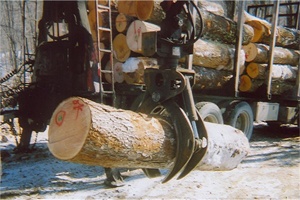 A timber value appraisal determines the current volume and value of the timber found on a parcel of land. The volume is determined through the use of a statistically based process known as a timber cruise. The value is determined from prices received for timber from recently completed timber harvests. These numbers are then condensed into a report.
This report provides technical information on the quality, quantity, and size of timber, which allow the Forest Management Services at Stillwater Forestry LLC to calculate the current "fair market value" of all merchantable timber and trees standing upon your property. Timber value appraisals provide the landowner with an estimate of what their timber is worth at the present time and current market conditions. Having a timber inventory performed is important for the following reasons:
Forest management planning
Determining a tax basis
Estate settlement
Land Sale/Acqusition
Benefits Of A Timber Appraisal
Saves Taxes: Having an appraisal done upon acquisition will give you a benchmark figure against which you can deplete the income generated from timber harvests.
Increases Your Real Estate Value: Performing an appraisal prior to selling you land – allows you to monetize the value of the timber that is standing. This value can then be factored into your list price – generating potentially more money for you at the time of the sale.
Benchmark by which to measure progress: Performing a timber inventory appraisal at the time of harvest and every 10 years afterwards – will give you numbers by which to measure the progress of the forest management strategies that are being used on your land. Is your timber increasing in value and volume every year? Is the percent increase, below average/ average or above average? You will have answers to these questions.
It's what all savvy timberland investors do: They realize the importance of having hard numbers for their forestland investment. A timber appraisal enables them to make informed decisions. You wouldn't invest in any other asset blindly – timberland should be no different.
Why Choose Stillwater Forestry LLC?
Accuracy : A timber appraisal is only as good as the steps taken to perform it. Stillwater Forestry takes the right steps to make sure our numbers are accurate. How? We utilize a standard system of planning/layout on every cruise, delineate our stands of timber properly, GPS every corner ( insures accurate acreage ) , measure tree heights with an electronic clinometer and lastly measure each sample tree with calipers. On the face of it these steps seem trivial yet failure to take them can result in timber appraisal numbers that are not accurate. Wrong numbers can mean you lose money!
Experience : Stillwater Forestry LLC has done numerous cruises for very large forest land sales throughout New Hampshire and Maine. These were multi million dollar transactions where accuracy was paramount. Meeting these tight standards has given us the experience to handle any Vermont or New Hampshire timber value appraisal project.
Call to speak with one of our knowledgeable New Hampshire forestry professionals about your timber appraisal needs as Vermont forestry experts Stillwater Forestry LLC can get you the accurate numbers you need.
Forestry Services in New Hampshire & Vermont
Timber Harvesting
Boundary Line Maintenance
Forest Management Plans
Timber Value Appraisals
Annual Forest Security Inspections
Wildlife Habitat Improvement
Timber Value Improvements
Buyers of Standing Timber
Land Acquisition
Areas We Provide Timber Value Appraisals
New Hampshire - Lebanon, NH | Keene, NH | Concord, NH | Littleton, NH | Berlin, NH - Vermont - St Johnsbury, VT | Rutland, VT | Montpelier, VT | White River Junction, VT | Brattleboro, VT | Hartland, VT | Norwich, VT | Thetford, VT | Brownsville, VT | Weathersfield, VT
If you are looking for New Hampshire or Vermont timber value appraisals then please call 1-800-237-9253 or complete our online request form.