100% Satisfaction with the "Forest-Tree Guarantee"™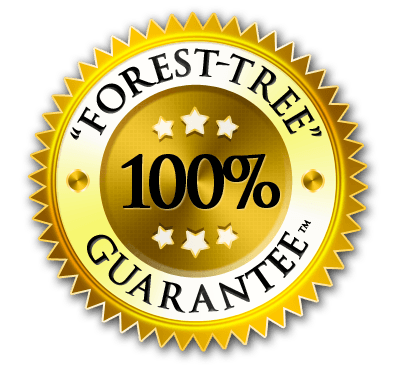 "We may not be able to stand harvested trees back up but we will guarantee your 100 % satisfaction."
For Timber Sales & Harvesting Services:
Talk To Anyone: Request beforehand a list of landowners we have worked for in the past. We will gladly provide to you a complete list of every landowner that has used our services in the past 2 years. They will be able to tell you about their experience of having a timber harvest administered by us. We will not cherry pick who you get to talk to! You pick the person from the list and decide, for yourself, who you want to call. You will be able to have any questions about our integrity, professionalism, quality of work and timeliness of payments answered by others who have used our services in the past.
Your Full Satisfaction: Upon completion of our harvests - we will notify you in writing. If, within 24 hours, of our notification you find that you are unsatisfied with the end product - let us know. We will work to fix any problems that you may have. If you are still unsatisfied tell us in writing why.... and what you think you should pay. We will then remit to you the difference between what we charged and what you think our service was worth. We are the ONLY forest management company in NH and VT that gives you this option!
For All Of Our Other Forestry Services:
You Decide: Not feeling that the finished product or service is worth what you are being charged? Just let us know why, in writing, and then pay us whatever you feel the service/product is worth. No questions and no hassle!
When you think of managing your forest we want you to think first and foremost of Stillwater Forestry LLC – a New Hampshire forestry and Vermont forestry management company.
Forestry Services in New Hampshire & Vermont
Recent Articles
How Forestry Demands are on the Rise Through Timber Harvesting in St. Johnsbury
The United States Forest Service recognizes that it must drastically increase forest restoration work in order to alleviate threats that stem from wildfires and other problems that can take over a forest. Timber harvesting is one of the best ways to manage a forest while making the landowner successful in their investment...
---
Protecting Land with Wildlife Habitat Improvements in Lebanon
Wildlife in our protected forests these days are becoming scarcer due to the amount of foresting and cultivating of land. We are removing habitats while not realizing the importance of them. Today-more protective methods are taking place through wildlife habitat improvements...
If you are looking for Forest Management Services New Hampshire or Vermont then please call 1-800-237-9253 or complete our online request form.