New Hampshire & Vermont Forest Management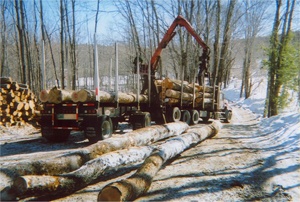 Since 2007 Stillwater Forestry has become Corinth's most trusted forest maintenance company. Our goal is to secure of your greatest investments - your land. We manage your woodlands keeping your personal need at the forefront of every service that we offer. We want your land ownership to be both enjoyable and lucrative. Since forest and wildlife preservation is our passion we perform all of our many services absolute care and precision paying attention to every detail so that you benefit. Check out our website to discover all the many products and service that we provide for you and then call us for a 30 minute free consultation.
Timber Appraisal and Harvesting
When it comes to harvesting and selling your timber it is absolutely essential that you hire a contractor that you can trust in order to optimize your product. This is why you want the same company who can help you navigate through every single step of the process. From initial appraisal, to forest preparation, harvesting, and then helping you get a good price for your timber, we've got your cover all along the way. With years of industry experience we know every proper method for preserving your woodlands, harvesting the right trees at the right time, and then giving you accurate appraisals that help you get better than average prices when you go to sell. Go with a company you can trust with every single tree. Contact Stillwater Forestry today!
Boundary Security and Maintenance
If you own several acres of woodland, then you know how impossible it is to maintain it all on a regular basis. With all the variables that are inherent with forest ownership, it's difficult to juggle it all on your own. We provide a comprehensive package of forestry maintenance. Some our services include:
Boundary Maintenance & Security
Establishing Clear Boundary Marking
Theft, Vandalism, and Trespassing
Posting No Trespassing Signs
Boundary Cleaning & Brush/Foliage Clearing
Bi-Annual Forest Security Inspection Plan
Wildlife Preservation & Improvement
If you are looking to preserve or add wildlife to your property, we offer a full inspection of your land to evaluate what type of wildlife would be ideal for the type of land you are on. We can also create environments for certain kinds of animals including black bear, deer, grouse, and all kinds of birds. This includes everything from patch cuts, field restoration, vegetation and food plots, and planting trips specifically used for cover/shelter.
Providing These Corinth Forestry Services
Recent Articles
How Forestry Demands are on the Rise Through Timber Harvesting in St. Johnsbury
The United States Forest Service recognizes that it must drastically increase forest restoration work in order to alleviate threats that stem from wildfires and other problems that can take over a forest. Timber harvesting is one of the best ways to manage a forest while making the landowner successful in their investment...
---
Protecting Land with Wildlife Habitat Improvements in Lebanon
Wildlife in our protected forests these days are becoming scarcer due to the amount of foresting and cultivating of land. We are removing habitats while not realizing the importance of them. Today-more protective methods are taking place through wildlife habitat improvements...
If you are looking for  New Hampshire or Vermont forestry management professional then please call 1-800-237-9253 or complete our online request form.