Pittsfield, NH Forestry Management Services For Landowners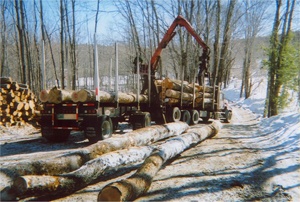 Own forested acreage in Pittsfield and need help from a forestry management service? Whether your property is part of your investment portfolio, you plan to harvest the timber, or you use the land for recreational activities, we are here to help you take care of it.
Stillwater Forestry, LLC has been managing forestry land for property owners in New Hampshire for more than 20 years. Our Pittsfield forest management service professionals set high standards of service excellence and take pride in our expert service to local landowners.
Call our licensed forester professionals today. We would be happy to answer your questions and schedule a consultation.
We provide references
100% satisfaction guarantee
Full line of forestry management services
Service packages available
Get Your NH Forest Property Assessed By A Pro
One of the forestry management services we offer in Pittsfield is a property value assessment. This comprehensive inventory of your tree species, wildlife habitat, unique natural areas, water bodies, and trails can help you meet the requirements of the New Hampshire Tax Abatement Program.
Detailed documentation
Assesses accurate value of your property
Full land appraisal for Tax Abatement App
Boundary Line Maintenance Service
Keeping the boundary lines of your Pittsfield acreage clearly marked goes a long way to prevent encroachment and trespassing.
We recommend that boundary maintenance is done regularly rather than sporadically. Don't let nature take its toll on your property boundary lines, call us for service today and let us set up a regular schedule to protect your land.
Boundary line maintenance
Annual boundary security inspection
If you are looking for Forest Management Services in Pittsfield, NH, please call 1-800-237-9253 or complete our online request form.