Forestry Services In Raymond, NH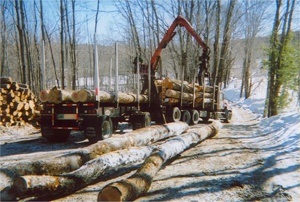 Stillwater Forestry, LLC is a Raymond forest management service. Our focus is on good land stewardship and to assist our clients with the expertise they need.
If you have woodlands in the area and you need help with land management, wildlife habitat management, timber harvesting, or boundary line maintenance, we would be happy to set up a forestry management consultation.
We offer all the services you need to manage your forest acreage.
Service packages available
100% satisfaction guarantee
Experts with 20+ yrs experience
Woodlots to 50+ acres
Professional Forest Management
Our Raymond forest management services are specifically tailored to accommodate your unique needs.
Check out our different service packages and then contact us with your questions. We would be happy to give you the details.
Boundary line maintenance
Timber harvest management
Timber appraisal
Detailed written property report – timber, access logistic, forest health, etc.
Inventory of your timberland – tree species, wildlife, water bodies, etc.
Timber value report – broken down by tree species, volume, current market price
Stress-Free Timber Harvesting
Stillwater Forestry, LLC makes harvesting timber on your Raymond land easy. You will have expert advice and guidance to lead you through the process.
We take care of the permits and forms necessary and submit them on time, and connect you with a reliable logging contractor who is best suited for the project. You'll have no upfront costs and a 100% satisfaction guarantee.
Recent Projects in Raymond
If you are looking for Forest Management Services in Raymond, NH, please call 1-800-237-9253 or complete our online request form.