Professional Danville Forestry Management & Consulting Service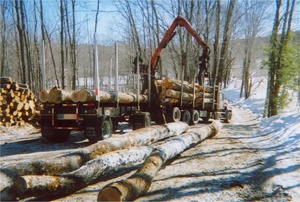 Keeping up with forest land is worthwhile. However, it can be difficult for owners to keep the property managed if they can't inspect or take care of it like they would want to. Eventually, boundaries get overgrown and problems like trespassing or undesirable wildlife get out-of-hand.
For professional help with forest land and wildlife habitat management in Danville, call Stillwater Forestry Management, LLC. Our experts work hard to provide clients with top-quality service they can rely on.
We offer an extensive array of services that go beyond what you expect from other sources. Our Danville forestry management experts are equipped with the expertise and tools needed to provide inspections, boundary maintenance, habitat and wildlife improvements, land acquisition, timber harvesting, and consulting services.
Whether you are interested in acquiring forestry land in Danville or are looking for help with managing your existing timberland, Stillwater Forestry Management, LLC would love to discuss your needs and offer you an estimate. Just give us a call to let us know what you need or request service via our online request form and we'll call you to discuss your needs.
Danville Forest Management Services
Stillwater Forestry, LLC offers a number of forest management plans to Danville owners and their contractors. Our services help you recognize problems in advance and provide you with effective solutions to keep your forestry land protected. We focus on key aspets such as soil, wetlands, habitat improvement, wildlife species, boundary line maintenance, and long-term improvements.
Expert Danville Boundary Line Maintenance Service
Keeping your land boundaries from overgrowth prevents problems like boundary encroachment, trespassing, and other problems. The boundary line maintenance service involves remarking existing property lines, posting no-trespassing signs, and keeping the brush cleared. Just call and let's discuss your needs.
Annual Forestry Inspection Service In Danville
Sometimes keeping up with forestry land is impossible for landowners. An annual forestry inspection could be just what you need if you own Danville property that you can't inspect yourself. Our professional inspection service will inspect the property for signs of timber theft, trespassing, erosion problems, insect problems and more.
Preventing criminal activities
Ensures boundary lines stay intact
Reports on damages caused by insects & extreme weather events
Monitors growth of timber
Saves owner time and trouble
Helps prevent timber theft
Great for absent landowners
For professional Danville, VT Forest Management Services, please call 603-865-1167 or complete our online request form.