Professional Forestry Services In Plymouth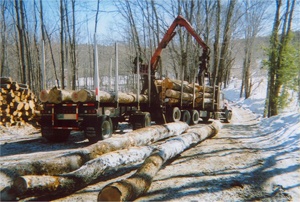 If you live in the Plymouth or surrounding Vermont and New Hampshire areas, then you understand how important our timberland is to us in this part of the country. Forestry ownership can be a very rewarding and profitable investment, but there can also be a lot of work involved, especially if you own several acres or more. That's where the professional Plymouth forestry management company, Stillwater Forestry LLC comes in. Since 2007, we have been one of the most trusted names in Forestry Services for Plymouth and the surrounding areas. We understand just how important our woodland areas are to us around here, we provide comprehensive forestry management service to our clients to help you not only maximize your profits from your land, but to help preserve it and keep it beautiful season after season.
At Stillwater Forestry, we help Plymouth land owners manage their forested properties, helping to keep their environment healthy and thriving. We provide a wide array of forestry services including:
Timber Harvesting
Boundary Line Maintenance
Timber Value Appraisals
Forestry Management Plans
and more
Timber Harvesting in Plymouth
As any forested property owner in the Plymouth area knows, harvesting your timber is a great way to help keep your woodland areas growing and thriving. Harvesting your timber not only let's you reap some of the rewards for maintaining a healthy parcel of timberland property, it also clears away old growth so that new growth can begin. Our team of experts can identify your crop trees and your weeds trees, and will work to clear those that are unhealthy or detrimental to your property. Our team is highly experienced both in the services we offer, and in the trends of the lumber industry in our area, so when it comes time to sell your timber, we can offer very accurate appraisals of what the market value of your lumber is. Call us at Stillwater Forestry today to schedule your free consultation.
Plymouth Boundary Line Maintenance
Maintaining the boundary to your land is very important as any landowner knows, and it is no different with your forested property. Keeping a well-maintained property line can save you a lot of money down the line by eliminating the need to hire a surveying crew, and can help ward off both accidental and intentional timber theft. Keeping your property line clear can also ensure that any signage you have posted remains visible to all and actually serves to help reduce trespassing on your property. Keeping your boundary line visible is also a great way to increase the value of your land because you can always be sure how much of it is yours.
Recent Articles
How Forestry Demands are on the Rise Through Timber Harvesting in St. Johnsbury
The United States Forest Service recognizes that it must drastically increase forest restoration work in order to alleviate threats that stem from wildfires and other problems that can take over a forest. Timber harvesting is one of the best ways to manage a forest while making the landowner successful in their investment...
---
Protecting Land with Wildlife Habitat Improvements in Lebanon
Wildlife in our protected forests these days are becoming scarcer due to the amount of foresting and cultivating of land. We are removing habitats while not realizing the importance of them. Today-more protective methods are taking place through wildlife habitat improvements...
If you are looking for a Plymouth, VT forestry management professional then please call 1-800-237-9253 or complete our online request form.